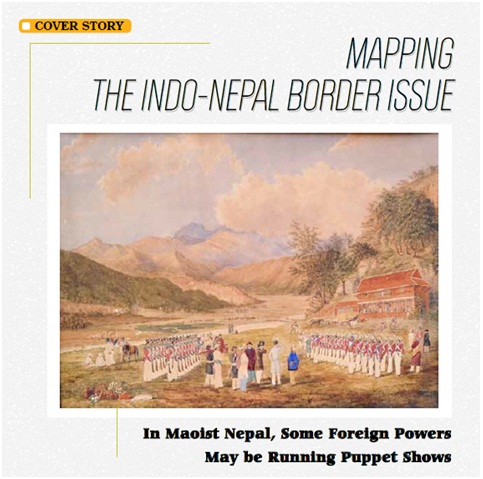 We do not know if any third country is pulling its Kathmandu-string to make Nepal go against its old friend India but the current postures of the Prime Minister K.P. Sharma Oli forces us to conclude, he indeed is alienating the Himalayan nation from New Delhi.
Since November, 2020, the Maoist Government of Nepal had been chanting anti-India rhetoric just for nothing. Now Kathmandu has released a New Political Map of Nepal showing Kalapani, Lipulekh and Limpiyadhura as part of its sovereign territory.
The Oli Government rejected India's territorial claim on these three places violating international norms and also putting into jeopardy its old friendly ties with New Delhi.
The External Affairs Ministry of India said reacting to the New Revised Map of Nepal as an unilateral act and violation of border agreements as it "includes parts of Indian territory and also infringing India's sovereignty and integrity."
Indian Army Chief Manoj Mukund Naravane said Kathmandu is acting on "behest of someone" over the border issue as there was no plausible reason to suddenly issue a "Revised Map" by Nepal knowing fully-well, it would destabilize the mutual relationship of the two countries.
Now a question arises. Is Nepal trying to put into practice the grand Greater Nepal Plan once tried by King Prithvi Narayan Shah (1723–75) of the Shah Dynasty? This question becomes very pertinent as Nepal also claims a large part of land in Uttar Pradesh, Sikkim and North Bengal.
Let us have a look at it.
Greater Nepal Campaign
Ever since the Maoist Government came to power in Nepal, the Greater Nepal campaigns too had been on the rise. The Greater Nepal Nationalist Front staged several demonstrations demanding scrapping of the Sugauli Treaty of 1815.
After putting Kalapani, Lipulekh and Limpiyadhura as part of its sovereign territory in the New Revised Map of Nepal, the Oli Government is also asserting to reclaim many parts of India. The map of Greater Nepal is about 60% larger than the present day Nepal's map.
Here, seriousness of this border issue assumes a larger proportion.
Greater Nepal Map
Cut Off Year: 1816
Treaty in Question: Sugauli Treaty with Kingdom of Nepal and the East India Company.
Greater Nepal's Old Border Claim:
i. In the East: Sikkim and Jalpaiguri
ii. In the West: Border goes up to Sutlej River
Total Length of "Greater Nepal": 1,500 KM
Under the Greater Nepal, Kathmandu now is claiming that all territories that were ceded to India under the East India Company in 1815 following Sugauli Treaty must be returned to it. Nepal does not stop here. The New Revised Map of Nepal claims land across Uttar Pradesh's Gorakhpur.
Most surprisingly, this new map does not include lands of Tibet that the Gurkha army occupied defeating Tibetans in wars from 1789 to 1791 but from where the Gurkha army was ejected by Chinese army which defeated the Gurkha king in 1792 Sino-Nepal War.
The Oli Government claims only Indian lands. Quite interesting! Is not it?
Historical Perspective of Greater Nepal
To understand the backdrop of "Revised" Map of Nepal, we have to look at Kathmandu's proven historical tendency of expansion. It began mainly with Prithvi Narayan Shah (1723-75). At that time, his Gorkha kingdom comprised 2,500 km.
After defeating several kings in wars, he annexed their kingdoms under his kingdom which he named as "Nepal." He shifted his kingdom to Kathmandu in 1769. He died in 1775 and his eldest son Pratap Singh Shah also continued with the expansionist theory.
In 1777, Pratap Shah died and Bahadur Shah became king to rule till 1794. From 1791 till 1803, the Nepalese kings annexed several kingdoms in what are dotted in mainland India now.
Following the defeat of Gurkha Kings in wars against the British, those areas – principalities and kingdoms – were ceded to the East India Company as part of the Sugauli Treaty ratified in 1816.
With this, the dream of Greater Nepal buried. But it now has again erupted.
Fresh Controversy Over New Revised Map
Amlan Home Chowdhury
To read the further articles please get your copy of Eastern Panorama June issue @http://www.magzter.com/IN/Hill-Publications/Eastern-Panorama/News/ or mail to contact @easternpanorama.in