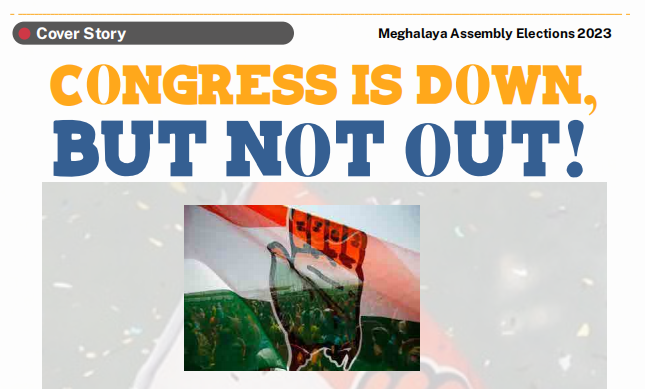 There is a general perception that Congress is already out and vanished. This may not be true for Meghalaya, as in the last Assembly election, Congress not only got the largest number of seats i.e 21, but also highest percentage of vote share of about 28.8%. Not only this, as many as 17 candidates were runners up.
Yes, it is true as many as 12 sitting MLAs in the state of Meghalaya left the Congress to join TMC a year back. Overnight, AITC became the largest opposition party of Meghalaya. The grand old national party Congress was reduced to just 7 members. It is not clear whether the migration of their MLAs to TMC will change any voting pattern.
If it happens so, then, Congress will further go down. According to some observers, the internal conflict and indecisiveness of Congress Headquarter was the main cause of frustration, those who migrated from the party. The present President is Mr. Vincent H. Pala who is also a sitting MP for the third time and earlier served as Union Minister of Water Resources and Minority Affairs, besides which he has served on various committees of the Central Government, thus having a good experience of running the political administration. A keen sportsman and a musician, Mr. Vincent H. Pala is a widely travelled person and seen the world. Eastern Panorama took time to meet him and understood their poll preparation. The following are the excerpts: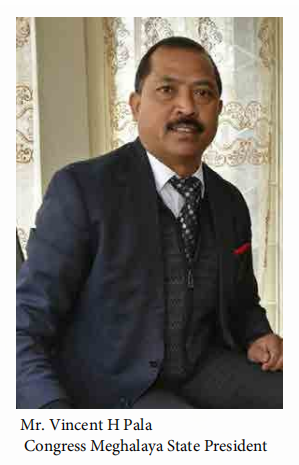 What do you think of the prospect of winning the assembly election in 2023?
I think, the election commission had not even announced the date, but I don't want to talk much about winning unnecessarily because we are not sure who are the candidates and how many of the candidates we will be competing with? Sometimes, you know, if there are five candidates there are different results, also the results varies with different numbers. But I can tell that we are having a block level election committee. We have cleared around 40 names, and these names will be forwarded to Delhi. They'll approve and send back. But I can see that this time we have better chances than before.
Why? Because, before it used to be a family centric while taking decisions for distribution of the tickets, but this time it'll be done by the block and the districts, and there's only the party's interest. So the preparation for the election this time, we have done much in advance. So, I'm very confident this time for we'll do better results than what we have done earlier. Though the perception of the people is that, Congress is gone, Congress has become weak, but the voters are still with the Congress. The leaders might have gone, for example, former Congress member Ampareen Lyngdoh from Laitumukhrah, alongwith most of the workers. But when we forward an eligible candidate and convince the people, the voters will definitely come back. Recently, many of the workers were back, this is just an example. We have 25 constituencies in East Khasi Hills and 15 in Garo Hills, of which we are going to declare soon. So in all these 40 constituencies, we'll give a very good fight. Also let me inform that we are still getting good responses from 15 constituencies.
So what is the possible reasons you may have introspect yourself that, why for majority your party has become a minority?
To read the further articles please get your copy of Eastern Panorama January issue or mail to contact.easternpanorama@gmail.com