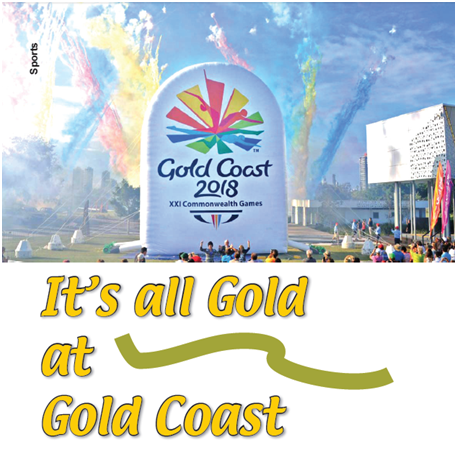 Their heart swells with happiness after struggle, strife and sweat flash victory. It is a proud feeling to stand on the podium to receive a medal for the country. The mission has finally been accomplished after the fall of first bit of national anthem followed by receiving a thundering ovation from the crowd. And Indian sports brought stupendous success at XXI Commonwealth Games 2018 that has brought cheers to 1.25 billion people. With 66 medals (26 Gold 20 Silver 20 Bronze) our nation reached the third position behind Australia and England in the medal table. The success story has begun with Shooting (7 4 5), Wrestling (5 3 4), Weightlifting (5 2 2), Boxing (3 3 3), Table Tennis (3 2 3), Badminton (2 3 1), Athletics (1 1 1), Squash (0 2 0) and Para Power Lifting (0 0 1). At CWG Glasgow 2014 Scotland, our rank was 5th with a total of 64 medals (15 30 19). Surprisingly at CWG New Delhi 2010, we reached the second position with 101 medals (38 27 36).
After the Olympic, the CWG is the second most important multisport event in the world. A total of 71 teams from 50 countries belonging to the Commonwealth of Nations are eligible for participation in this event. It was originally called the British Empire and Commonwealth Games (1950-1962) and British Commonwealth games (1966-1974). However it had finally been changed to Commonwealth Games to connect to the decolonization and dissolution of the British Empire. After disintegration of British Empire, CWG is being initiated to m a i n t a i n influence in its former colonies. It's like pingpong democracy between US and China in 1970s to renew diplomatic relations.
There are s i g n i f i c a n c e factors reflected at Gold Coast, Australia. Indian daughters have shown brave attempt in respective games with 35 medals. Being a mother of three children, the journey of MC Mary Kom is remarkable with a Gold again. In India, cricket is the most watched sport but the rise Badminton and Boxing have delighted the countrymen that there is much more beyond Cricket. The stupendous success of shuttlers from Saina Nehwal(G) to PV Sindhu (S) and K Srikanth (S) on the global stage has brought world attention. But those success stories have not just come easily. The inspiring story of India's rise in badminton world can be credited to Pulella Gopichand who has changed the face of the sport in our country. For him rising the tricolour at the podium is a big thing. There cannot be a bigger motivation than that.
Can India dream big for Olympics in the future? And with the world class infrastructure at home, India plan to send a satisfactory contingent for a medal hopes at Tokyo 2020. Khelo India is a part of the revamped National Programme for development of sports that aims to strengthen the network by promoting mass participation and promotion of excellence in sports. This watershed movement in the history of Indian sports will act as an avenue for identification of budding sports talent to promote gender equity and social inclusiveness. Khelo India has already been shined. And two talented girls from Khelo India participated with a Gold by Manu Bhanker in 10m Air Pistol event. Despite hardship and being disciplined soldier, Indian armed forces have made us proud with 10 medals.
Kamal Baruah
To read the further article please get your copy of Eastern Panorama March issue @http://www.magzter.com/IN/Hill-Publications/Eastern-Panorama/News/ or mail to contact @easternpanorama.in