Mukul Sangma breaks his silence on Education Scam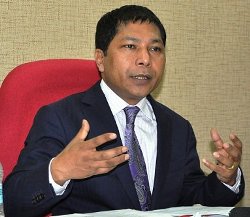 Chief Minister Mukul Sangma break his silence on the 'Education Scam' by saying that the findings of the investigation and the judgment pass by the court will be the guiding principle for his government for dropping of any cabinet ministers connected with the education job scam.
Speaking to reporters after a cabinet meeting, the Chief Minister said that the issue of dropping or not dropping of any ministers will depend on outcome of the case and the issue of any alleged involvement of the minister concerned.
He added that "We have taken a conscious stand on all allegations, the whole process of law and the outcome will be taken as the guiding principle for us to decide on the fate of any member of the cabinet." Since 2009 there has been demands from several dropping of the cabinet minister Ampareen Lyngdoh, who was the then education minister of the state following the scam unearthed by the CBI.
The Meghalaya High Court in its judgment passed recently handed the investigation of the 2009 Education Job Scam to the Central Bureau of Investigation (CBI), which is directed to submit its report within a period of six months.