2 day workshop concluded at NEC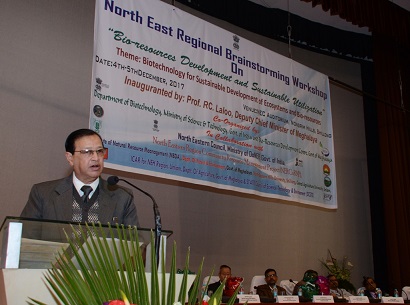 The 2 day workshop under the theme: "Biotechnology for Sustainable Development of Ecosystems and Bio-resources" is being concluded North Eastern Council Auditorium, Shillong. This brainstorming workshop on 'Bio-resources Development and Sustainable Utilization' is being co-organised by the Bio-Resources Development Centre (BDRC), Government of Meghalaya and the Department of Biotechnology, Ministry of Science & Technology, Government of India in collaboration with North Eastern Council, Ministry of DoNER, Government of India, North Eastern Region Community Resource Management Project (NERCoRMP), Institute of Natural Resources Management (MBDA), Department of Forest & Environment, Government of Meghalaya, North Eastern Hill University, Shillong, Central Agriculture University, Umiam, ICAR for NEH Region, Umiam, Department of Agriculture, Government of Meghalaya and State Council of Science Technology & Environment (SCSTE).
The workshop was to discuss on the need to protect and preserve the rich bio-diversity of the State and to make it more sustainable for the future generations. The aims of the workshop were to provide platform for various stakeholders for developing frameworks for sustainable development of ecosystem and bio-resources of the North East India in general and Meghalaya in particular through biotechnological approaches.
Member, NEC, Shillong, Shri C. K. Das, Secretary, NEC, Shillong, Shri Ram Muivah, Adviser, Department of Biotechnology, Government of India, Dr. Mohd. Aslam, Director, CSIR-NBRI, Prof. S. K. Barik, Director, ISBD, Imphal, Prof. Dinabandhu Sahoo, Secretary to the Government of Meghalaya, Planning Department & Member Secretary, BDRC, Dr. B. D. R. Tiwari was also present at the inaugural programme.