KSU wants Independent Committee to probe Kynshi River mystery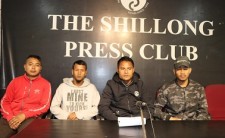 The Khasi Students' Union (KSU) of South West Khasi Hills demands an independent inquiry committee to probe into the abnormal change in colour of the Ranikor River that led to the death of thousands of fishes. KSU-Ranikor Circle President Marcony Thongni said that "The state government should immediately set up an independent inquiry to find the actual cause into the River changing its colour and also the death of aquatic lives,"According to Thongi the demand is being made after an inspection to the site conducted by the Union on 19th January and found that thousands of fishes are floating on the river. The water of the Ranikor River located near the Indo-Bangladesh border in South West Khasi Hills District has started changing its colour again.
The KSU-RC president said that the issue is also a matter of serious concern for neigbouring Bangladesh since the Ranikor River is also directly flowing to its territory. "We are in touch with an agency from Bangladesh on the matter since it has been reported that they are facing similar problem there," he said. The Union leader said they would wait for the State government to take action before filing a petition before the green court ((NGT).