Union Defence Minister Nirmala Sitharaman released BJP's vision for Meghalaya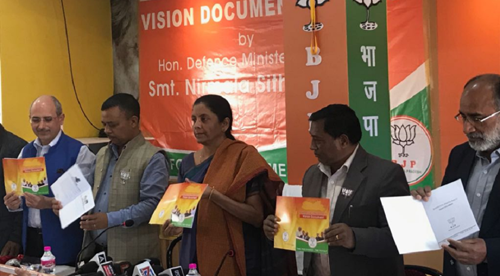 The Bharatiya Janata Party (BJP) Shillong in the presence of the Union Defence Minister Nirmala Sitharaman has released the party's Vision document for Meghalaya which has abundant promises for the people of the State. The vision promises houses for everyone, jobs to unemployed, safety of women and Children's, drinking water to every family and uninterrupted electricity among others. The Vision promises one job opportunity to every youth and to resolve National Green Tribunal ban on the coal mining within 180 days if voted to power. The BJP 'Vision Document' proposed to get recognition of Khasi and Garo languages in the 8th schedule of the Constitution to empower the local people in field of education and administration. On the Health care, the party also promised to make health insurance of Rs 5 lakh available to every citizen in the state and improved infrastructural facilities in primary and community health centres. On Agriculture, the BJP proposed to make Meghalaya an Organic hub by promoting on a large-scale besides to support poultry farming to maximize its production. It also promised to check influx of foreign migrants through its strong policy decisions. The Vision also promises to bring administrative changes; BJP promised to ensure time bound delivery of services to all citizens of the state besides to regularizes all pending Government jobs.
Union Tourism Minister K J Alphons, former Congress Minister Alexander Hek, BJP spokesperson Nalin Kohli and Meghalaya BJP Chief Shibun Lyngdoh were also present during the release of the 17-page 'Vision Document'.