Health Minister inaugurated Laitkor Health Center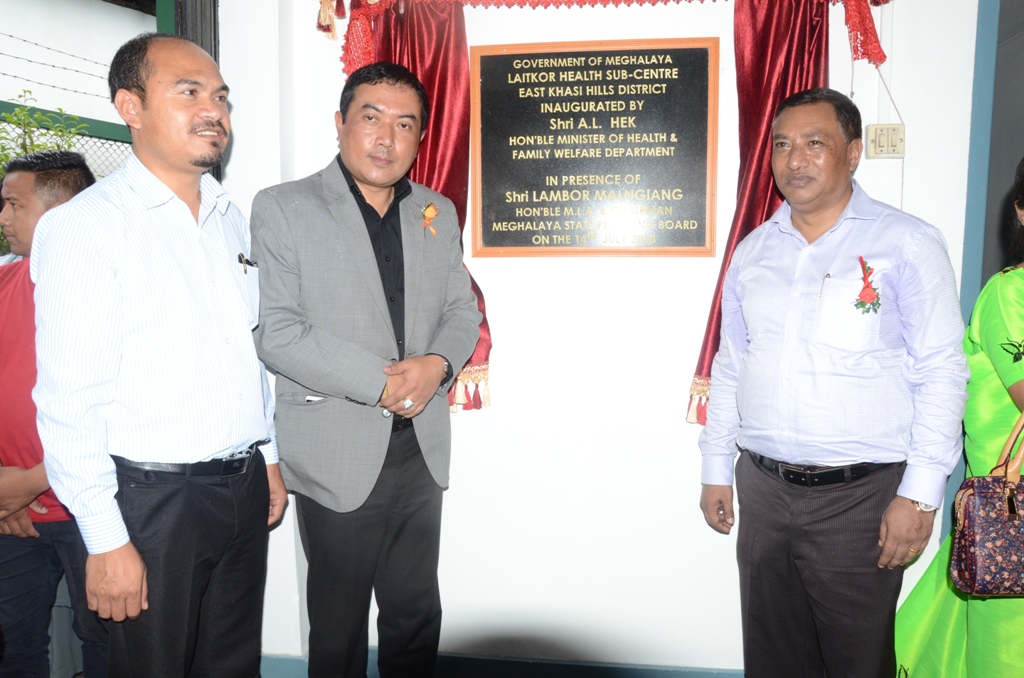 State Health and Family Welfare Minister, Shri A. L. Hek inaugurated the Laitkor Health Sub-Center under Smit PHC at Laitkor Rngi, Shillong in the present of Shri Samlin Malngiang, PHE, Minister, Shri Lambor Malngiang, local MLA and Chairman State Planning Board, Dr. B. Mawlong, DHS, MI, Dr. A. War, Jt. DHS, Shri P. T. Passah, BDO, Mylliem C&RD Block, Shri Leonard Arun Mawrie, Rangbah Shnong cum Chairman Laitkor Dorbar Pyllun, Shri S. Pyngrope, Rangbah Shnong, Laitkor Rngi among others.
In his inaugural address, Shri Hek stated that the government is committed to provide affordable, accessible and quality health care services to all sections of society especially to economical weaker section of society by opening more health centers in the State.
The Minister also highlighted the objective of the Meghalaya Health Insurance Scheme (MHIS), and he also appeal the people to come forward and enroll them self to enable them to avail financial aid at the time of hospitalization and treatment and reduce the out-of-pocket expenses of the beneficiaries.
Others who spoke on the occasion were Shri Shri Lambor Malngiang, Dr. B. Mawlong, Shri Leonard Arun Mawrie and Shri S. Pyngrope. The Programme was presided over by Dr. (Miss) E. Dkhar, District Medical Health Officer, East Khasi Hills, Shillong. Dr. C. Majaw, M&HO incharge Smit PHC delivered the welcome address while Dr. (Mrs) R. Kharmih proposed the vote of thanks.