Third National Ayurveda Day concluded in Shillong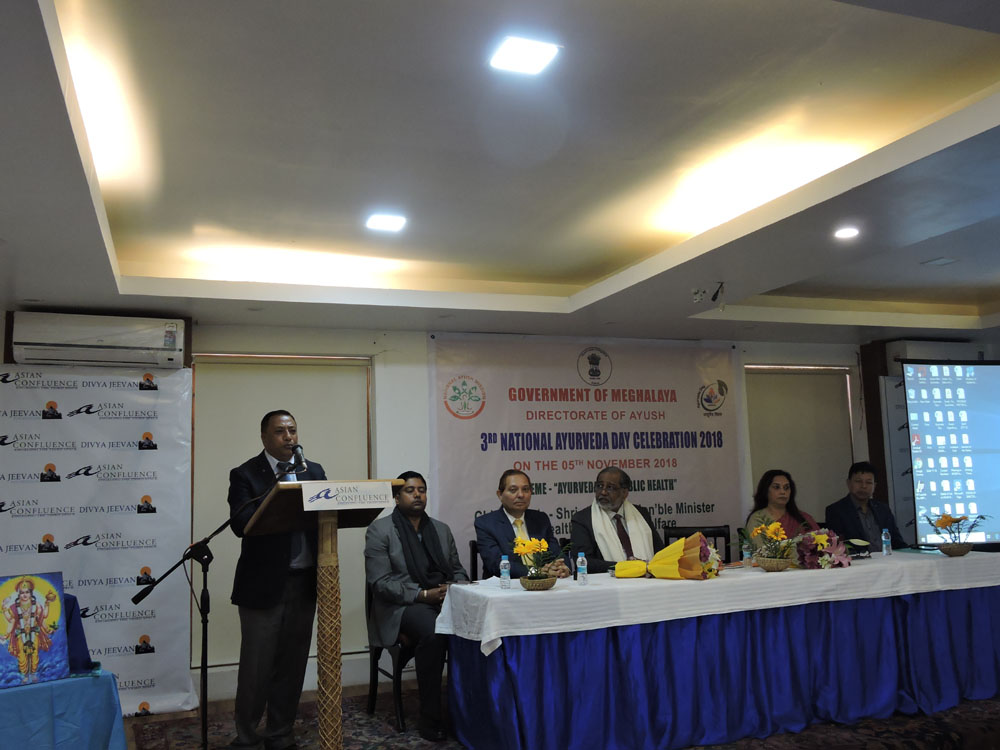 The 3rd National Ayurveda Day 2018 on the theme, "Ayurveda for Public Health" was organized by the Directorate of AYUSH, Government of Meghalaya at Asian Confluence, Laitumkhrah, Shillong in which Shri A. L. Hek, the Health & Family Welfare Minister Government of Meghalaya was the Chief Guest. Other dignitaries who attended the programme include Shri Anil Jauhri the CEO of National Board for Accreditation for Certification Bodies (NABCB), Shri Pravin Bakshi, Secretary, Health and Family Welfare Government of Meghalaya cum Director of AYUSH, Dr. T. S. Nongkhaw, Director Health Services, MI, Dr. D.K. Raswai, State Nodal Officer of AYUSH and Dr. S. Pala, Ayurvedic Physician, Shillong Civil Hospital, Shillong.
Speaking in his inaugural address, Shri Hek recalled the advantages of Ayurveda medication from his childhood and also the importance and benefits of Ayurveda in day to day life. He also encourage in promoting and strengthening the traditional system of healing in the State by bringing the traditional healers under the organized sector of the Government.
The programme was followed by a series of sessions wherein topics namely "Quality Council of India" support to Traditional Healers, "Ayurvedic approaches to cure human disease", "Potential of herbs in the management of type 2 diabetes Mellitus" and "Ayurveda for public health & Preventive approaches" were presented by Dr. Debjani Roy, Advisor, Quality Council of India, Dr. B.P. Sarma, Prof. & HOD of Kayachikitsa, Government Ayurvedic College, Guwahati and Dr. Shantanu Kr. Sanjay, Medical Officer (AYUR), under Health and Family Welfare Department, Government of Assam respectively.