Did Tom Cruise Pay 200 People To Pretend To Like Him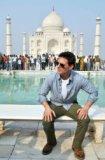 Reports out of Mumbai are suggesting that Paramount Pictures paid a mere $600 bucks to boost Tom Cruise's ego. It seems not enough people were planning to show in the city, where Tom was slated to promote his latest movie, Mission Impossible: Ghost Protocol.
So the studio shelled out $$$ to get some really enthusiastic fans!
One of the "fans" on the scene said, "Tom kaun? [Tom who?] I don't know who he is or what he does. We were told to come here by 1pm today and wait for a foreign VIP to come out of the airport gate and scream and shout when he came. None of us know who Tom is. There was a buffet lunch also for us and we were paid `150 for this job today. We do this for television shows and other such events where crowds are required." Lunch and a bonus?! Such a deal! Of course, Paramount is vehemently denying the claim. Yeah, sure. Okay. We believe you. So … can we have our $3 bucks and sandwich now?