CROWN WITH PURPOSE
Up, Close and Personal with Beauty Queen Mrs India 2017 Dr.Duyu Meena Mudang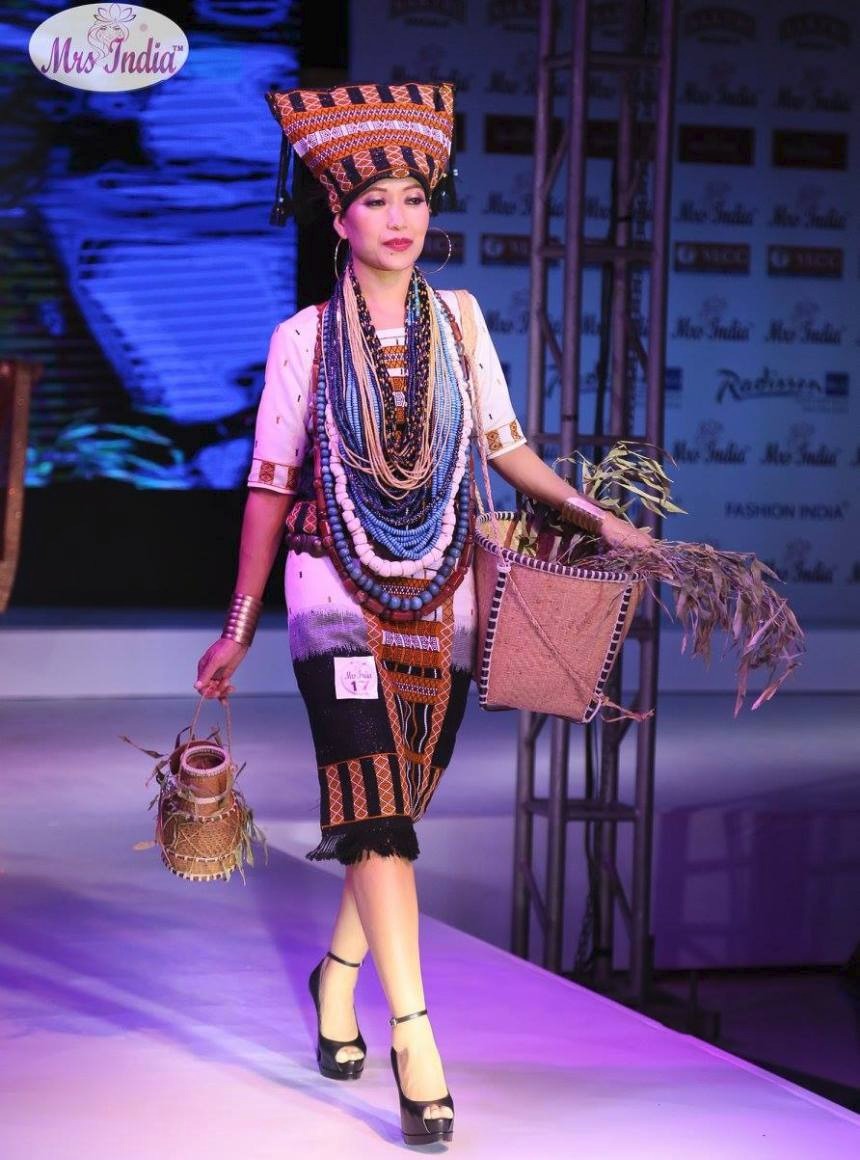 Dr.Duyu Meena Mudang is the new face that proves that beauty does not fade with marriage after being crowned as Mrs India 2017 at Chennai in July. Born to DuyuSambyo and DuyuRinyo, she is from a beautiful place called Reru in Lower Subansiri District popularly known as Apatani Plateau of Arunachal Pradesh.
She is a homoeopathy doctor, successful entrepreneur, a mother and a wife. Meena, from a family of six, grew up in Reru in a close knit environment. Life has however not always been bliss for her as she faced many challenges while growing up, which moulded her into becoming the strong goalchasing woman that she is today.
From being Miss Subansiri 1997 to Mrs Arunachal 2010 to Mrs India 2017, here's what Dr Duyu Meena Mudang has to say on her journey to be crowned as Mrs India 2017 with Chow Bilaseng Namchoom.
CBN: Every beauty queen has her own story to tell about her success in taking home the crown. Tell me yours?
DMM: Being the first one in the entire history of Arunachal Pradesh and the first Tribal Women from the entire Northeast India to win the coveted title of MRS INDIA 2017, was not easy as it is the most prestigious and largest national platform for Indian Married Women and also a gateway to the Premium International Pageants.
When I decided to take part in Mrs India 2017 beauty pageant, my journey started by giving online audition in the month of October 2016, after that audition for Northeast at Shillong on 10th December 2016, where I emerged as the winner and qualified for Semifinals, then next I had to compete with Northern states and West Bengal apart from Northeast states at Mrs India North 2017, which was held at Radisson Blue, New Delhi from 5th to 8th April 2017. From there, I was qualified for National Grand Finale which was held at Feathers Hotel, Chennai from 3rd to 5th July 2017, where I had to compete with all the 46 Winners of respective Zones from all over India and overseas to be finally crowned as MRS INDIA 2017.
The journey was really tough, very long and too strenuous but I could managed to bring home the most prestigious title and the crown of Mrs India 2017 which was possible because of my Husband Mr. Mudang Tacho.
Moreover, I had support from my in-laws, family and relatives and all the well wishers.
Thus, I moved ahead highly enlightened in my spirit and gave my 100% into it for which I thank God.
CBN : Did you face any discrimination during the journey?
DMM: To be frank and honest, I was fortunate enough to never experience such awkward situations throughout my journey of Mrs India 2017.
Rather, I was highly appreciated, encouraged, acknowledged, accepted and above all loved by the people whom I met in this journey right from the National Director, Regional Directors, co-contestants as well as their family members.
Many times we tend to share the bitter experience which spreads like a wild fire and the good things are forgotten and not shared which disappears into the thin air.
CBN: How are the women being treated in the Arunachal Tribal Society? What is the relevance of beauty pageants in the tribal society? Do you think that beauty pageant contributes positive effects to the society?
DMM: Most of the tribal women in Arunachal except for some living in remotest areas are enjoying almost equal status at par with the men except for some reservations in inheriting the ancestral property rights.
At present scenario, most of the female children are enjoying Right to Education and Female Foeticide is very low compare to the other States. Relevance of beauty pageants in the tribal society is nothing but one more way to uplift and empower our women to see the wider world out of the boundary instead of stereotypical kitchen material.
I believe each one of us is blessed with different inherent qualities to be an Athlete or a cook or any artists etc. Not all can become Mary Kom, Amitabh Bachan and soon. Likewise, not all can become a Beauty Queen but each of them from their expertise inspires us from their own respective fields.
I strongly believe that beauty pageants contribute positive effect to society provided the aspiring ladies do not choose the Wrong Pageants.
A beauty pageant grooms you in many ways and helps you to find your worth by building up your confidence. Moreover, it gives the common Platform to Voice your Choice with essence, be the Ambassador of Goodwill and Peace and to signify your advocacy.
CBN: In what ways did the beauty contest help you?
DMM: We as women are eternally as well as internally beautiful, for we are the God's greatest creation so far, being blessed with the womb to nurture and nourish the new life. We always wear that invisible crown irrespective of our age.
Thus, beauty contests make us realise, no man is beautiful in this world because the word BEAUTY is only associated with the Female Species.
CBN: You looked pretty and marvellous in your costume at the pageant. Who was your designer?
DMM: Well, I always love to design for myself for I know better what will make me feel comfortable and confident.
Smt. TabaAkaaNabam and her entire team of Akaa Creations understood my taste in dresses and created my choice of dresses. My traditional attire in National Grand Finale was designed by my younger sister Miss Duyu Asha. All of my accessories were not only created but was also entirely sponsored by AMG accessories which are owned by Mrs TaduAmungLollen. Shoes were designed by renowned International Luxury Footwear based in Italy, Miss FilafiFithu from Nagaland, who even sponsored some of the shoes.
I would like to thank each one of them from the core of my heart for being part of my success of Mrs India 2017.
Chow Bilaseng Namchoom
To read the further article please get your copy of Eastern Panorama March issue @http://www.magzter.com/IN/Hill-Publications/Eastern-Panorama/News/ or mail to contact @easternpanorama.in