Halle Berry's Stalker Arrested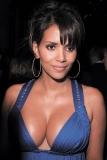 Halle Berry is one of the most beautiful women on the planet. But, seriously Richard Franco, that doesn't give you an excuse to stalk the star.

This 27-year old has been arrested  for trespassing on Berry's property. He did it three times over three days, till the police finally nabbed him. Franco jumped over a wall at Berry's home, the third consecutive day he's tried to get close to the actress. Add a comment Read more...