Toki Blah the new Chairman of Social Audit
Meghalaya became the first state to have a Social Audit Act (SAC) with Toki Blah as its chairman. Blah who is a former IAS officer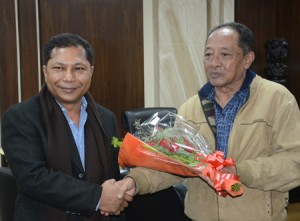 was appointed by Chief Minister Mukul Sangma after meeting on Wednesday.
Dr. Mukul Sangma during the official appointment said that with the state now having a Social Audit it will create an environment that will make transparency and accountability in order to maintain irregularities in the course of the implementation of schemes and projects.
The Chief Minister said Sangma said that social auditing will make people easier to understand about various schemes and project that are meant for the welfare of the people of state as a whole.
The newly appointed chairman will have tenure of five years. Meanwhile Blah after his official officiating said the Council will encourage the public and civil societies to be part of the government's development programme in order to bring out transparency and accountability in all developmental activities.