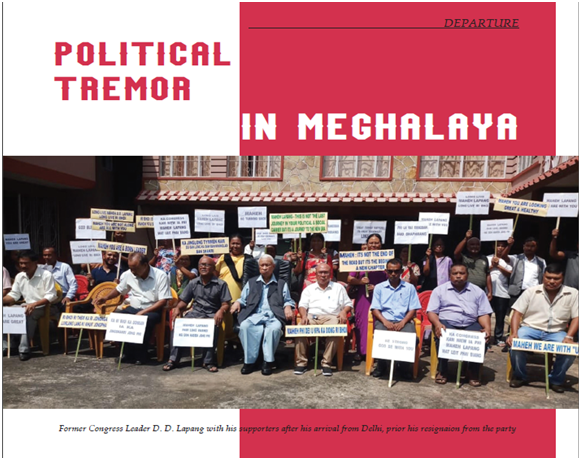 Political tremor was felt in Meghalaya, yet of not a high intensity, as the Meghalaya Democratic Alliance (MDA) Government remains intact, even with the defeat of Martin Danggo, the ruling party National People Party (NPP) candidate in the by-election in the Ranikor constituency in South West Khaki Hills, Martin M. Danggo however had succeed to raise the status of Ranikor into a civil Sub-Division. The irony however was that NPP was defeated by a candidate of the ruling partner, United Democratic Party (UDP) which was considered and regarded as a friendly match.
On the other hand, the Chief Minister Conrad Sangma had won hands down against the opposition Congress in South Tura, Garo Hills, thus securing himself to the position of the leader of the Legislative Assembly and continues as Chief Minister of the State. Conrad had expressed happiness that the UDP had won the Ranikor seat, being the ruling partner of the NPP. Further Conrad said, that the result of the Ranikor and South Tura seat is well balanced, which would further strengthen the coalition Government Alliance and maintain stability which is an important factor. The UDP President, Speaker of the Legislative Assembly, Donkupar Roy has expressed in similar tone, that there would not be any betrayal among the ruling partners and that the coalition would complete its full five year term. Therefore, the victory of the NPP candidate from South Tura, Conrad K Sangma and of Pius Marwein of the UDP from Ranikor is in fact a cementing factor of the strength of the MDA, which also include the Hills State Peoples Democratic Party (HSPDP), the Peoples Democratic Front (PDF) and the Bharatiya Janata Party (BJP).
The political tremor in the State had however, a damaging effect to the opposition Congress as it was a high voltage shock for the party in losing the by-polls and also followed by the resignation of senior party leaders specially D. D. Lapang. This has come about just a year before the Lok Sabha election, which is considered as a crucial period. Five times Chief Minister Donwa Dethwelson Lapang was very sore and at the same time candid that the congress party which he had served for such a long period in his political career had adopted lately a policy of chasing out senior and elderly people.
In his resignation letter, Lapang expressed with heavy heart that he was compelled to take this action citing his displeasure over Congress President Rahul Gandhi, who has taken a policy to sideline the senior leaders of the party. Also he did sacrifice for the party, also for the people of his constituency Nongpoh, which had elected him as the peoples representative as an independent in the year 1972. However he re-called that he was glad that he had the privilege to be in the Congress for the last four decades where he had worked devotedly leaving no stone unturned as a disciplined Congress man.
http://www.easternpanorama.in/index.php/about-us/187-year-2017/august-2017-issue/3470-politicising
Sumar Sing Sawian
To read the further article please get your copy of Eastern Panorama March issue @http://www.magzter.com/IN/Hill-Publications/Eastern-Panorama/News/ or mail to contact @easternpanorama.in