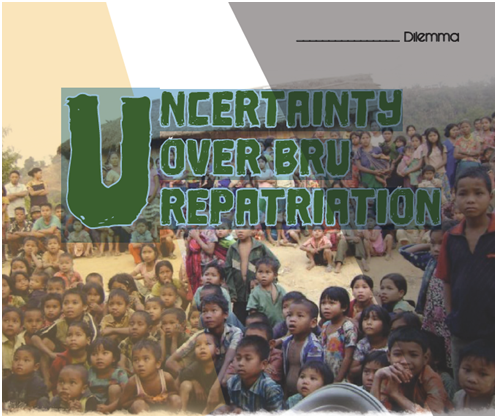 Any social/political problem, troubling a region or state for a long period of time now, how complex it may be to deal with can be amicably and peacefully resolved in a time-frame if the state is willing to resolve the issue with a give-and-take spirit. There are some states in the Northeastern region that are long beset with some complex problems which have impeded the growth, though there are no valid reasons for their early solution being kept on hold, year after year. The successive regional governments can easily resolve it, if they desire so assertively and with all earnestness. But in several cases, these establishments , instead of being keen on resolving them during its full term, are seen soft pedalling these issues , evidently for vote bank politics or to score one-upmanship over its arch rivals. This go-slow approach on their part towards these issues has weakened the states' economy. The standing example of which is Assam's recurring floods and erosion. The inordinate delay in clinching them on a priority basis once for all has galled many, which reverberates in periodic agitations in these States by different organisations such as civil society groups, student bodies, academics, opposition leaders, professionals etc, in protest against the ruling party governments over alleged apathetic attitude towards the bare need of their early settlement resulting in social unrest.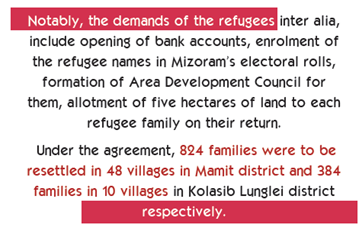 Consider Tripura as a study case. Like Assam, it also has a lot of problems to deal with. One such issue afflicting the former for a pretty long time now is Mizoram's the Bru or Reang (as they are popularly known) refugees repatriation problem. This dilemma, like Assam's decades-old flood and erosion problems, appeared almost easily soluble a decade ago, but the inordinate delay by the successive governments in Mizoram in ensuring their safe and early return and resettlement in the State since their fleeing Mizoram following the ethnic strife in October 1997 that had erupted after a Mizo wildline game warden Lalzawmliana was killed by the suspected militants BNLF which has only served to complicate the issue leaving Tripura in a quandary.
It is to be noted here that a total of over 32,876 refugees belonging to over 5,407 families had been staying in six make-shift relief camps in Tripura's Kanchanpur and Panisagar sub-divisions since fleeing their native villages in Mizoram. After the bipartite peace accord signed between the then Zoramthanga-led MNF government and the home-grown Bru insurgent group, the Bru National Liberation Front (BNLF) led by Surjyomoni Reang, in April 2005, just 1208 Bru families had so far returned to their State over the past 13 years. Then, this year on July 3 there was a multilateral agreement between Tripura and Mizoram governments, the Home Ministry and the Mizoram Bru Displaced People's Forum (MBDPF). Under the accord, the process of the final repatriation of the remaining 5,407 began on August 25 last. But only 180 migrants returned to the State in a month or so despite all necessary steps in this regard taken by the Mizoram government. Palpably disgruntled over their poor response to the State government's appeal, the Centre stopped providing relief to over 32,000 Reang refugees from October 1. It was intended to compel them to return their villages in Mizoram from where they had fled in 1997. The refugee leaders under the MBDPF's banner reportedly in a letter to Prime Minister Narendra Modi and Union Home Minister Rajnath Singh had urged the Centre to resume supplies. Finally, on October 22, the Tripura government at the instance of the Centre resumed supply of food and other essential items to the refugees sheltered in the North Tripura camps.
But the big question is... why has New Delhi suddenly revised its stand and asked Tripura to resume supplies for them? It is simply because the BJP at present is straining every nerve to emerge as a major political player in the ensuing Assembly polls in the Christian-dominated Mizoram, as it did in the recently-held Assembly polls in Tripura and Nagaland. After all, it is banking largely on the religious and linguistic minorities of the State like the Chakmas, Lakhers, Manns and Brus who are, incidentally, the second largest group of population in Mizoram, next to the Mizos also known as highlanders, who account for about 70% and dominate in at least five Assembly segments in Mamith, Lunglie and kolasib districts.
Dwaipayan Dasgupta
To read the further article please get your copy of Eastern Panorama March issue @http://www.magzter.com/IN/Hill-Publications/Eastern-Panorama/News/ or mail to contact @easternpanorama.in