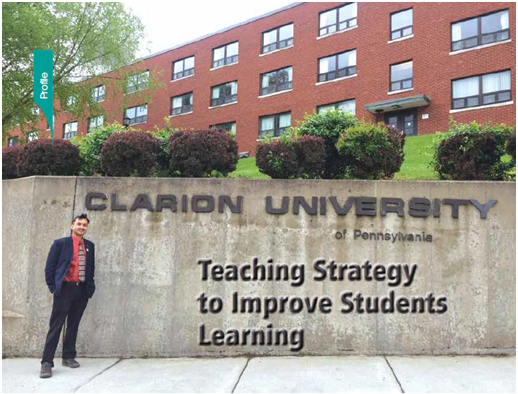 Hybrid High-Impact Pedagogy to Enhance Learning Experience among Students – Dr. Nripendra Singh
Dr. Nripendra Singh is the Professor of Marketing in the College of Business Administration at Clarion University of Pennsylvania, USA. He is involved in a discussion with professors at Shillong University to improve teaching and learning for students in their department. Some excerpts from the discussion are presented in this article.
At Clarion University of Pennsylvania, Dr. Singh recently pilot tested a hybrid high impact pedagogy research project to improve learning among students in the College of Business Administration. His research goal is to engage students minds and enhance overall educational experience for students at Clarion University. The purpose is to make learning enjoyable, interesting, and relevant for students to get good jobs. As per Dr. Singh, such hybrid high impact teaching pedagogy will lead to higher student satisfaction, which is directly related to low dropouts and high enrolment in the long run.
The title of his project was "Development of hybrid high-impact pedagogy and an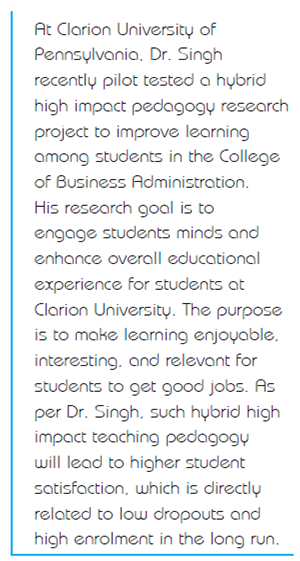 entrepreneurial ecosystem via Integrating Clarion University, local businesses, and SBDC", which has received around five lacs (equivalent amount in US dollars) of funding by the Pennsylvania's State System of Higher Education. Dr. Singh combined three high-impact educational practices: service-learning, research, and internships in his marketing course. Students were involved in live marketing projects with local companies. Students identified real business problems and provided feasible solutions to their partner companies at the end of the project. The project was completed under the guidance of their mentors – Dr. Singh (faculty), company managers, and Clarion's Small Business Development Center (SBDC) consultants. Dr. Singh got positive feedback on his project and learning outcomes from the students and the partners companies.
This idea is based on the logic that learning is retained for a longer time in the mind, when it engages students wholly, which is proved in the pilot study. Dr. Singh explained that the strength of hybrid high-impact pedagogy is that students co-create, conceptualize, design, execute, and analyze projects all by themselves. In other words, they will get direct experience in a work setting and mentored research experience that will enhance learning and provide career and professional preparation. Assessment is a key component to ensure quality and high impact of the pedagogy. Dr. Singh utilized direct and indirect measures of skills and knowledge to provide evidence of achieving learning goals. As his department (marketing) under the college of business in Clarion University is accredited by the Association to Advance Collegiate Schools of Business International (AACSB), Dr. Singh's effort are highly appreciated, as they are directly in line with AACSB standards. AACSB is the highest and most prestigious accreditation in the world for business schools. Dr. Singh feels that UGC and NAAC accreditations in India follow similar patterns and therefore following such pedagogy by the universities and colleges in Shillong and other places in India will benefit the students learning as well as accreditations of their departments/colleges.
To read the further articles please get your copy of Eastern Panorama June issue @http://www.magzter.com/IN/Hill-Publications/Eastern-Panorama/News/ or mail to contact @easternpanorama.in