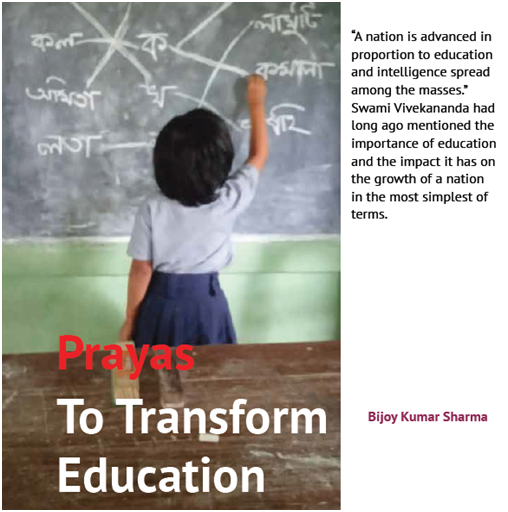 "A nation is advanced in proportion to education and intelligence spread among the masses."
Swami Vivekananda had long ago mentioned of the very importance of education and the impact it has on the growth of a nation in the most simplest of terms.

Education is not just a practice of going to school; it is a commitment to transform into a proper human being from just any ordinary person. It is not just about good grades, but also about good morals. It is not just about learning tables, but also about having profound knowledge of manners and etiquettes.
A world that thrives on pace and selfish motives, education is what keeps the soul alive. Education not only teaches us words like "thank you" and "sorry", but also widens our vision and understanding on gratefulness and guilt. It is not just a medium to know where the Moon is, but also about knowing, analyzing and planning on how to reach it. To say the least, education is not just a profession-building tool, it is a life-building mechanism.

A dismal scenerio prevailed in Dhubri district of Assam, and according to census report, an average literacy rate of Dhubri in 2011 were 58.34 compared to 48.17 of 2001. If things are looked out at gender wise, male and female literacy were 63.10 and 53.33 respectively. For 2001 census, same figures stood at 55.84 and 40.02 in Dhubri District. Total literate in Dhubri District were 922,341 of which male and female were 511,551 and 410,790 respectively. In 2001, Dhubri District had 9,102,384 in its district.
The baseline survey report of Ministry of Minority Affairs, deprivation is prominent in the population of Dhubri. Of the total sample population, 25.67 per cent of the males and 36.13 per cent of the females are found illiterate. In terms of religion, about 70 per cent of the total population is from Minority communities of which more than 95 per cent are Muslims.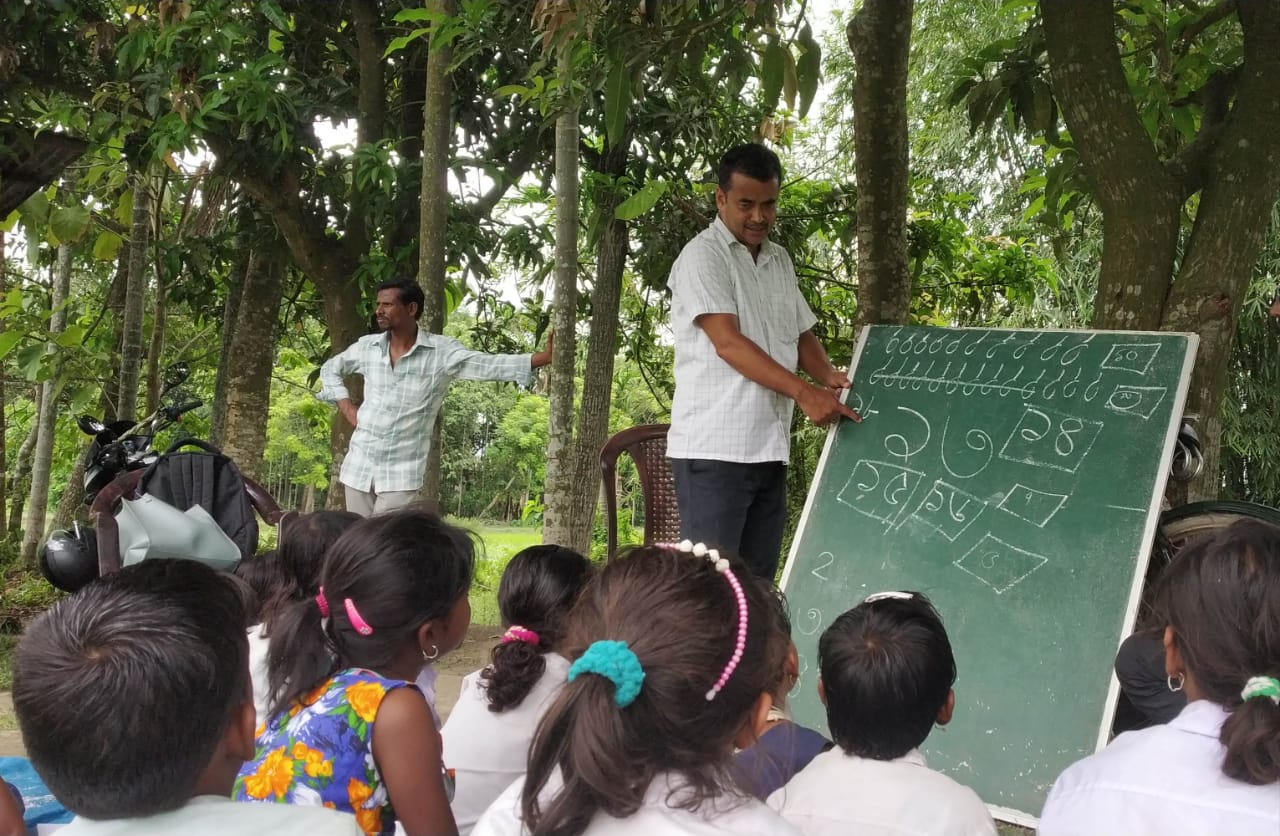 About 32 per cent Muslim and 25 per cent Hindu population are found to be illiterate. Moreover, female illiteracy (18.1 per cent Muslim as well as 15 per cent Hindu) is higher than male illiteracy (14.1 per cent Muslim and 10.0 per cent Hindu).

Of the total population about 23.0 per cent are found to have primary level of education. The middle level of education is completed by around 15 per cent of the total population. Around 20 per cent of the Hindu and 10.0 per cent of the Muslim population have completed matriculation level of education. After matriculation, the enrolment rate in higher classes was found to be poorer. The condition of technical and higher education is poorer in Dhubri. Not more than 1 per cent of the sample population is found to have managerial, technical or, post-graduate qualification.

Associate Editor of Eastern Panorama, Bijoy Kumar Sharma in an exclusive talk with Dhubri District Manager of Piramal Foundation, Udai Singh Chundawat informed that National Register of Citizens (NRC) updation in Assam had affected the education status of the district for last four years, and more than 55 thousand government servants of the whole state have been working in it, including the teachers.

"According to the Right to Education Act, 2009, 1st to 5th standards' Pupil Teacher Ratio (PTR) should be 30:1. But due to teachers working in NRC updation, many classrooms remain empty. There are some single teacher schools, which are simply closed. According to BBC, the enrolment is also decreasing in the government school of the state. From 2017 schools of Dhubri district, around 1500 teachers are working in NRC updation. Only 53% schools, PTR is available in the district presently, which is resulting to many single teacher schools where whole school is maintained by one teacher", Chundawat further informed.

He said that in view of this scenerio, a volunteer led Accelerated Learning Programme(ALP)- considered as "Amar Bidyalay Amar Abhiman 2.0" incorporated volunteers and engaging them for 45 days in reading and learning processes with all students of primary level, especially those in 3rd, 4th and 5th classes of the clusters those who have been performing low according to the ASER report. It was an attempt to execute the state guidelines for providing additional academic support to children, he added.

A report says the initiative was taken by the District Administration and Department of Education, Dhubri with the support of Piramal Foundation(NITI AAYOG- partner )started from 28th June, 2018. Initially it had started as a 3 month long comprehensive academic support system in all schools of the district, of which Sarva Shiksha Abhiyan and Piramal Foundation had selected 150 schools for interventions and continuous support and competency check, report states.

However, Prayas – took a giant step and joint endeavour by the District Administration and Piramal Foundation. It's all about Dhubri Deputy Commissioner, Anant Lal Gyani and Piramal Foundation by their sheer dint of hard work together transformed the scenario and uplifted the standard of education that too in an aspirational district declared by the Government of India.

When contacted Dhubri Deputy Commissioner, Anant Lal Gyani said, that all-round development of students especially of primary section was the main concern. It needs promotion of cooperation and innovation of methodology in the same field and pursuing open educational resources.

"The focussed areas were, speaking and reading: speak about self, simple experiences, report events to peers, accurately and appropriately make connections and draw inferences. Recite poems, dialogues; speak and write stories, plays and speeches. Understand the central idea and locate details in the text. Comprehend and use the form and functions of grammar in context. Write coherently and with a sense of audience. Engage in creative writing", Gyani added.

Gyani said that 'Prayas' was the launching pad for developing skills and competencies in learners in primary education. It added activities to achieve the desired outcomes. Pedagogical processes are also given along with the learning opportunities to emphasise the process of learning and active participation of learners.

Utsav Bidyarambha – "Amar Bidyalay Amar Abhiman", Prayas was brainchild of Gyani who has been putting special importance in improvisation of the situation of education in Dhubri district.

Third party assessment report states that by the initiative and sustainable effort of education department led to enrolment of 296,303 students in government schools in the district from classes 1 to 8 in the current academic year, an increase of over 45000(18%) compared to the last 4 academic year enrolment began in January.
In the first week of January, the district administration took an initiative to organise Utsav Bidyarambha – "Amar Bidyalay Amar Abhiman", to ensure full enrolment and transition from primary to upper primary level, and from upper primary to secondary level throughout the district, report further states.

Another initiative by Dhubri District administration during Poshan Maah to reach out to masses transformed it into a festival of villages.
Bijoy kr Sharma

To read the further articles please get your copy of Eastern Panorama November issue @http://www.magzter.com/IN/Hill-Publications/Eastern-Panorama/News/ or mail to contact @easternpanorama.in