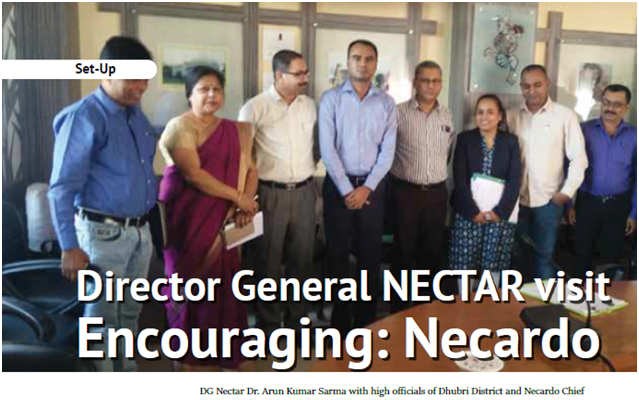 In a two-day visit to Dhubri district, Director General of North East Centre For Technology Application and Reach (Nectar), Dr. Arun Kumar Sarma inspected various production units including Asharikandi Terracotta cluster villages near Gauripuri on November 21 and 22.
Nectar is an autonomous body of Department of Science and Technology, Government of India providing techno know-how to upgrade the product with value addition by applying environment friendly plasma technology.
Dr. Sarma also held series of meeting with the entrepreneurs and exchanged views with artisans involved in making traditional and indigenous items but unable to compete in the market due to high cost of production.
In a high level meeting held with Deputy Commissioner, Anant Lal Gyani in the chair, Dr. Sarma explained how Nectar was working and what were the ways out and options to switch over plasma technology in agro based units only to enhance production of the items but also to add value to them through the Power-Point-Projection in Deputy Commissioner's Conference Hall.
Dhubri District Cultural Development Officer and District Information and Public Relation Officer (Dipro) in-Charge, Jiten Das explained how to motivate the artisans and organized a workshop recently to train the selected local people to make Dotara and Sarangi (both musical instrument played in Goalpariya music) here at Gauripur.
In the meeting, Dhubri District Development Commissioner, Banashree Nath, Additional Deputy Commissioner, Nayanjyoti Bhagawati, Director of North East Craft and Development Organisation (Necardo), Binoy Bhattacharjee and other officials were present and shared their views in the discussion.
Director of Necardo, Binoy Bhattacharjee told this scribe that Dr. Sarma was highly pleased to see various production units in the district including terracotta in Asharikandi village and agro based production units.
"Dr. Sarma spent a lot of time there in Asharikandi village and interacted with artisans engaged in making terracotta and pottery items. Support of plasma technology which hitherto been produced indigenously, will bring a sea change in socio-economical development", Bhattacharjee hoped.
When contacted by Associate Editor of Eastern Panorama, Bijoy Kumar Sarma at Dhubri Circuit House, Dr. Sarma expressed his satisfaction over the visit of Dhubri district and shared positive outcome of it.
To read the further articles please get your copy of Eastern Panorama December issue @http://www.magzter.com/IN/Hill-Publications/Eastern-Panorama/News/ or mail to contact @easternpanorama.in