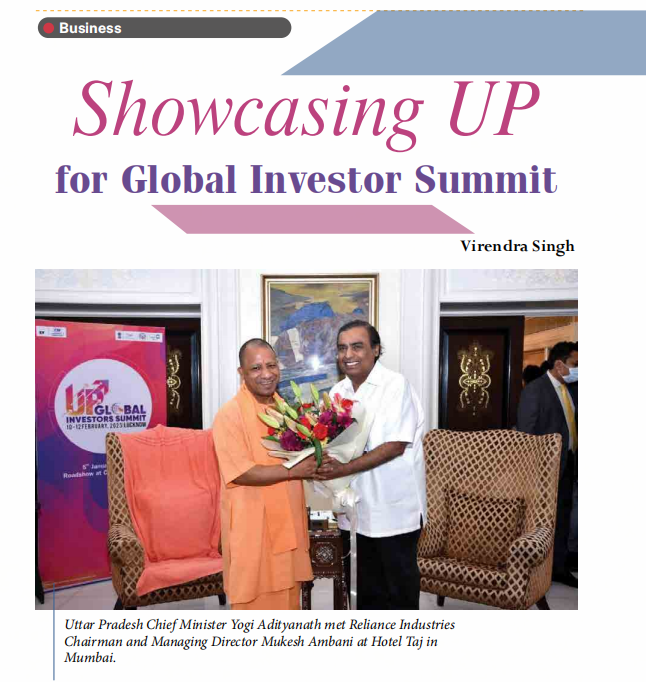 Uttar Pradesh Government unrolls red carpet for industrialists and entrepreneurs. With a view toattracting investment, ministers have visited various countries and interacted with the industrialists there.
Pitching Uttar Pradesh as a safe investment destination, Chief Minister Yogi Adityanath assured industrialists of a strong law and order situation devoid of fear and free of land mafia in the state. He, however, also attracted strong reactions from the opposition alliance in Maharashtra.
Uttar Pradesh Chief Minister Yogi Adityanath met Reliance Industries Chairman and Managing Director Mukesh Ambani at Hotel Taj in Mumbai. They discussed Uttar Pradesh's progress and investment opportunities for about two hours. Yogi also met Governor Bhagat Singh Koshiyari and other industrialists.
Bahraich summit attracts investment proposals worth ₹1,750 crore. Nearly 9,386 people would be benefited by these investments, said Bahraich district magistrate Dr Dinesh Chandra Singh.
In a step aimed at encouraging investment at the district level ahead of the Global Investors' Summit 2023 to be held in Lucknow next month, Bahraich received 69 investment proposals worth ₹1,750.96 crore at the summit organised in the district.
*Baharaich a role model for other districts*
In an exclusive interview with Eastern Panorma, district magistrate of Bahraich Dr Dinesh Chandra Singh, who organised the event, said nearly 9,386 people would be benefited by these investments. The Bahraich administration had set up several stalls to inform investors about various schemes of the state government. Businessmen and entrepreneurs in large numbers turned up at the summit held at a resort, the DM said.
Speaking at the event, the DM said, "As Bahraich is an aspirational district and located on the Indo-Nepal border, there is a lot of scope for business startups and investment here". "Besides, along with forest wealth and tourism there is an abundance of agricultural products here. So, investing in the district would be beneficial for the entrepreneurs and it will also boost the economy of the state". He assured the participants that the government will give them all possible help. In the thumping summit, Tata Industries have also shown their keen interest to invest in solar energy, DM Bahraich added that massive response of the agro based industries would fillip the agriculture potential of the district.
To read the further articles please get your copy of Eastern Panorama January issue or mail to contact.easternpanorama@gmail.com