"Creative Joy" An interview with budding Printmaker Kompi Riba
Chow Bilaseng Namchoom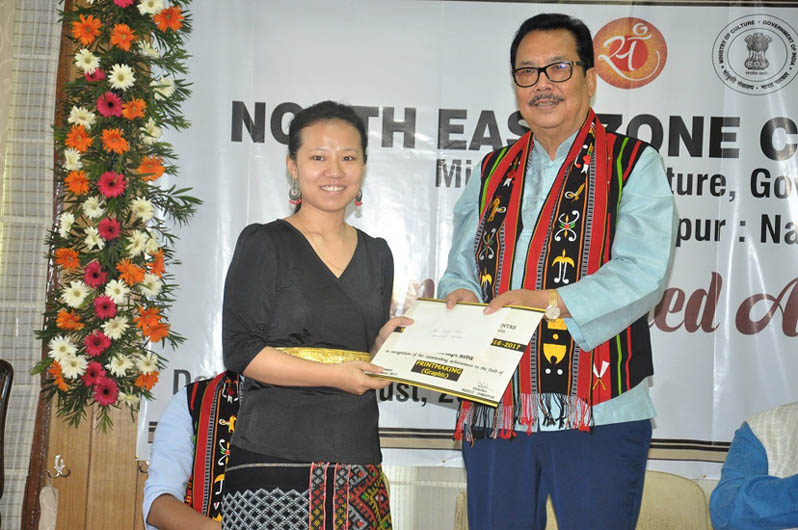 I had an exceedingly good fortune of chatting with the 27 year old budding printmaker Kompi Riba who is a native of Likabali, West Siang district, Arunachal Pradesh. Despite the fact that Printmaking in Arunachal Pradesh is a subject which many of the tribal people are unaware, Riba gambled to choose her carrier in Printmaking. Riba holds a bachelor's degree in Fine Arts (Printmaking) from Rabindra Bharati University, Kolkata and a master's degree in Fine Arts (Printmaking) from Visva Bharati University, Kolkata. Riba passed her higher secondary exam in science stream with a distinction and like others she could have chosen to become a doctor, engineer or an architect. But, drawing has always fascinated her and this has played an important part in Riba's decision to go for learning in fine arts. Today, she recreates magic of each artwork in her own unique style. She has exhibited mostly in Kolkata and New Delhi and now plans to hold similar exhibition in other parts of the country. She has carved a niche for herself in producing mixed-media paintings, original handmade prints and bookmarks. Currently she works as an Artist in SCERT (State Council Education Research and Training). Here is what she has to say about her work in an interview with Chow Bilaseng Namchoom(CBN).
CBN: Tell me something about yourself and education?
KR: My name is Kompi Riba and I was born on September 06, 1990. My father's name is Nikom Riba and mother is Aman Riba. I belong to Galo tribe and native of West Siang (Likabali). I completed my bachelor's education in fine arts (printmaking) from Rabindra Bharati University in the year 2013 and master in fine arts (printmaking), from Visva Bharati University on 2015.
CBN: What inspired you to become an artist?
KR: To become an artist was not my childhood dream, the idea and concept of becoming an artist grewclearer after many exposures and experiences received in the fiel of Fine Arts. Along the way, in the field, I realised my interest. With the encouragement and guidance of my professor, friends and family I grew and developed and was convinced that Art is my calling.
The creativity and inclination towards art is from my maternal side. One of my aunt is an architect. When I was young, my family did appreciate my drawings.
To read the further article please get your copy of Eastern Panorama March issue @http://www.magzter.com/IN/Hill-Publications/Eastern-Panorama/News/ or mail to contact @easternpanorama.in