Nagaland to witness Multi cornered contest in 2018

The year 2018 will see four Northeast states going out for election. While Nagaland, Tripura and Meghalaya are set to take place by the end of March, Mizoram alone will take place in early November. The tenure of Meghalaya and Nagaland assembly ends on 6th and 13th March 2018 respectively hence the election for both states is expected to commence on February.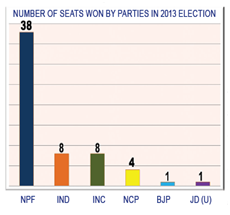 W i t h few months to go for the Na g a l a n d polls in 2018, p o l i t i c a l parties both National and State Political Parties has started to flex muscle to win the elections which is expected to take place in February or March 2018 along with two Northeast states Meghalaya and Tripura.
Nagaland which has sixty seats is expected to see the following parties into forays for the polls, The Naga Peoples Front(NPF), Indian National Congress(INC) , Nationalist Congress Party(NCP), Janata Dal (United), Socialist Janata party(SJP), newly formed parties are Nagaland Reformation Party(NRP),Nationalist Democratic People's Party(NDPP), United Democratic People Party(UNDP) and the National Peoples' Party (NPP).
The BJP is also set to play an important part in 2018 where the party is keen to capture power in the Christian dominating state of Nagaland. Recently the NPP has expressed its willingness to contest the party even though it has no base in the state. On the other hand the ruling Naga Peoples Front (NPF) party which is ruling the state since 2003 is facing the biggest daunting task ever in the party history.
The tussle arises within the Naga People's Front party (NPF) where there is speculation of Bharatiya Janata Party (BJP) tying up with the newly form party Democratic Progressive Party (DPP) However Nagaland State BJP P r e s i d e n t Shri Visasolie L h o n g o u d u r i n g the 5th Mokochung district BJP e x e c u t i v e m e e t i n g stated that, "the BJP will not enter into any pre-poll alliance with any party. The party will field candidates in all the sixty assembly for the upcoming elections". The BJP at present is part of the Democratic Alliance of Nagaland (DAN) government Nagaland to witness Multi cornered contest in 2018. Number of seats won by parties in 2013 election NPF IND INC NCP BJP JD (U) Nagaland Election which comprise of 38 Members from the Nagaland People Front (NPF), 4 Members from the Bhartiya Janata Party (BJP), one member each from Janata Dal United and Nationalist Congress Party (NCP) and 8 Independent candidates. The Democratic Alliance of Nagaland (DAN) is a coalition Government in Nagaland which was formed in 2003 after Nagaland Legislative Assembly election. The alliance is in power in Nagaland since 2003.
To read the further article please get your copy of Eastern Panorama March issue @http://www.magzter.com/IN/Hill-Publications/Eastern-Panorama/News/ or mail to contact @easternpanorama.in