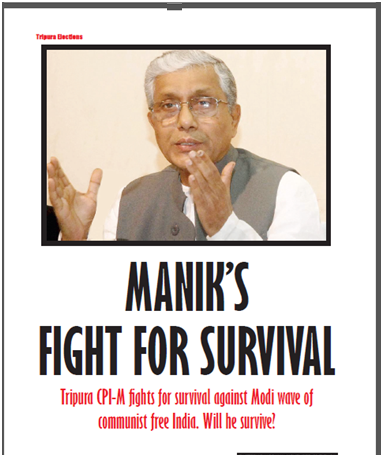 When BJP targeted to win Tripura as a prestige fight to comply with it's vow to make India communist free, ruling CPI-M comes out with packages and schemes to allure the voters for their sustenance in electoral politics of the country. After losing foothold in West Bengal and tough challenge in Kerala for past five years, CPI-M has concentrated in Tripura. The political observers indicate, since no where CPI-M is in power, it is oblivious for Tripura government to provide financial support more to the party that enlarged the ambit of corruption in the state. The left front rule till 2008 since 1993 in Tripura was by large spotless and Manik Sarkar government had a pro people approach. Losing in power at West Bengal in 2011 assembly elections, CPI-M in Tripura started getting deteriorated and before 2013 party leaders and their committed bureaucrats charged with serious corruption allegations.
Misappropriation of MGNREGS fund, massive corruption in job
distribution and party's involvement in Non Banking Financial Company's (NBFC) scam in Tripura damaged the fame and glory of communists. In the last election in 2013, the party in power directly used a section of state civil service officers and lower grade employees for manipulating the electioneering. Even CPI-M intruded their large number of cadres in opposition's rally when Prime Minister or any other central leader of Congress came for addressing public rally. It made a sense of satisfaction to the opposition and it also confused the central leadership but it was not reflected in the voting.
A large population of Tripura migrated from erstwhile East Pakistan who still possesses the typical character of migrant population. Mostly the older, middle-aged and women are not ready to face any challenges. The common psychology of the people of Tripura is to live for today and grasp as much as possible for tomorrow, which has been systematically exploited by communists over last two decades. But the new generation voters (at present constituted about 23 percent) become biggest challenge for leftists. Despite anti-incumbency wave CPI-M is stronger in terms of organisation at grass-root level. With the central government fund, left front government has been running as many as 29 social security schemes for different categories and now decided to increase the number of beneficiaries to one lakh population from November. It means that it has targeted to cover more than 1.5 lakh families. The cabinet decided to continue the service till March 2018 of or about 700 employees worked who under externally aided JICA project in forest department because the project got over in March 2017.
To boost the small and micro media in the state, the government opened a housing scheme for all the journalists working in the state capital besides, increasing the ratio of advertisement in the newspaper just to please them. Unfortunately, the central government organisations in Tripura – DD News, AIR, NSD, National Book Trust and Sahitya Academy are still under the control of CPI-M, which are being rampantly used for their campaign against BJP and central government. In last six months,Tripura government had offered of government job to more than 3400 unemployed youths who are aligned to their party. The party and government have been openly promising more bronzes to the different segments of the society to catch up their votes in the election.
To read the further article please get your copy of Eastern Panorama March issue @http://www.magzter.com/IN/Hill-Publications/Eastern-Panorama/News/ or mail to contact @easternpanorama.in