Arms and the Men Cox's Bazar to Fox Security of North Eastern India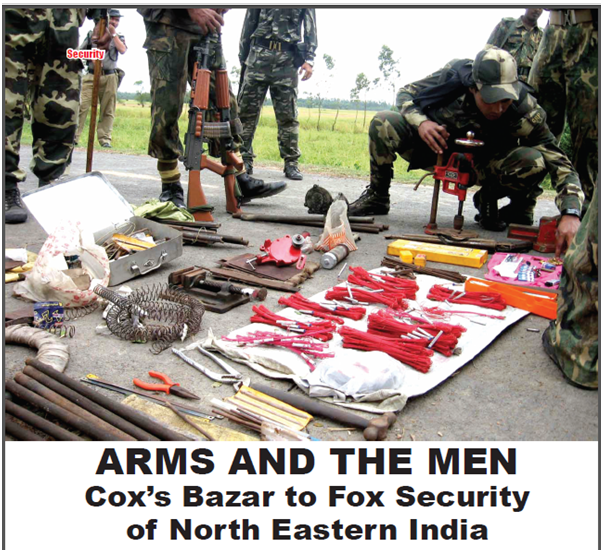 Way back in 1797 when Captain Hiram Cox, an officer of the British East India Company, established a small settlement at Palonki some 150 km from Chittagong Port (now in Bangladesh), could never even imagine that it would turn into a bizarre bazaar for guns, goons and drugs after 218-years of his death.
Goons may not be a tradable commodity but in today notorious Cox's Bazaar in Bangladesh, they are very much in demand to peddle drugs, arms and ammunitions to the vast North Eastern India and West Bengal. The Cox's Bazaar is really foxing the security of India.
Since China is fishing in that region's troubled water by saying "Bye-Bye" to old Nehruvian political era's famous lyric "Hindi-Chini Bhai-Bhai," the importance of Cox's Bazaar has gone up manifold as a den of desperadoes capable of creating troubles in the North East India.
China's foster son Pakistan is also finding Cox's Bazaar very valuable for it to beef up extremism by supporting the insurgents of Assam, Manipur, Meghalaya, Tripura, Arunachal Pradesh, Mizoram and Nagaland. The notorious distinction of Cox's Bazaar is for acting as a basket for dumping of China-made arms, drugs and sourcing place for gun-runners. No wonder, it is now the catchword for the underworld.
History Repeats Itself, Mostly For Wrong Reasons
The Cox's Bazaar most wonderfully maintained its notoriety for a long span of 218-years. With the influx of a very large number of Rohingya refugees from Myanmar, the notoriety has gone up manifold. They are posing great dangers not only to Bangladesh but also to India. Strangely enough, 218 years ago when the British East India Company rehabilitated the refugees in Cox's Bazaar, it posed a serious threat to it.
Captain Cox was inducted with the responsibility of rehabilitating a large number of refugees from different places including Arakan (today's Myanmar). But these refugees took to drug peddling and gun running with massive enthusiasm so much so that Cox's Bazaar became an el dorado for drug lords of China.
All opium peddlers in those days needed guns to protect themselves, as sea pirates would often raid their ships to loot their cargo, that had massive cash value everywhere in the South East Asia. Hence, gunrunning became a lucrative trade.
Today also Cox's Bazaar is showing the same syndrome. Truly, history repeats itself and often for wrong reasons.
The Government of India has just identified 140 "ugly spots" through which the guntotting toms of different pro- China militant outfits, Pakistani ISI agents, Naxalites, Jihadis, Rohingya militants and Islamists are pushing very cheap NORINCOmade arms to the North-East India, West Bengal, Bihar and Jharkhand from the Cox's Bazar.
Amlan Home Chowdhury
To read the further article please get your copy of Eastern Panorama March issue @http://www.magzter.com/IN/Hill-Publications/Eastern-Panorama/News/ or mail to contact @easternpanorama.in