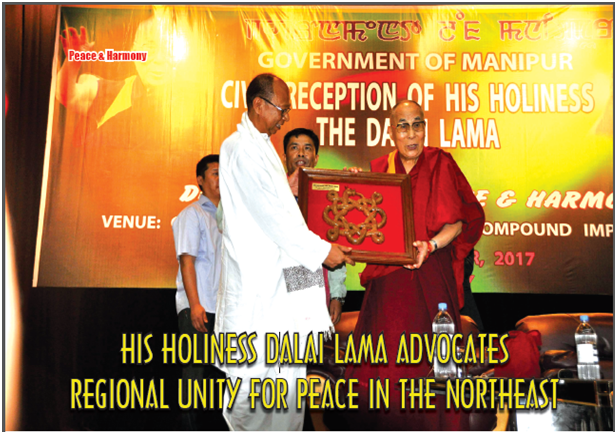 Common interest should gain more importance over individual ethnic agendas prevailing in the region said Tibetian spiritial leader, His Holiness Dalai Lama on his first visit to Manipur.
His Holiness the Dalai Lama addressed an international conference on Peace & Harmony in the restive state upon the invitation of the Manipur Legislative Assembly Speaker, Yumnam Khemchand.
The iconic world spiritual leader was accorded a civil reception at the City Convention Centre in Imphal by a jam packed crowd comprising of Ministers, MLAs, Bureaucrats, Civil Society Leaders, Students and even delegates from neighbouring states and Myanmar.
In this 2 hours long 'golden' address on peace and harmony, the Dalai Lama rationalized how love and compassion is the ultimate source for inner peace and happiness for all human beings on this planet. "Each of the 7 billion human being on this planet earth has a right to lead a happy and peaceful life which can be possible if each of us share the spirit of oneness with all human being." said the Dalai Lama.
"We are all human being, we are no different from each other. You and me, we are all the same. As a matter of fact, the 7 billion human being on this planet are the same human being. Mentally, emotionally, physically, we are the same and everyone of the 7 billion of us want happy life. Everyone have the right to carry happy life. I firmly believe in today's world we need the sense of oneness of 7 billion human beings. That's the "said the world spiritual leader.
Refering to the raging sectarian violence all over the world, he stressed on the essentiality of religious harmony in the world and picked India saying, "in multi religious India, no religious group has the right to convert people."
Sunzu Bachaspatimayum
To read the further article please get your copy of Eastern Panorama March issue @http://www.magzter.com/IN/Hill-Publications/Eastern-Panorama/News/ or mail to contact @easternpanorama.in