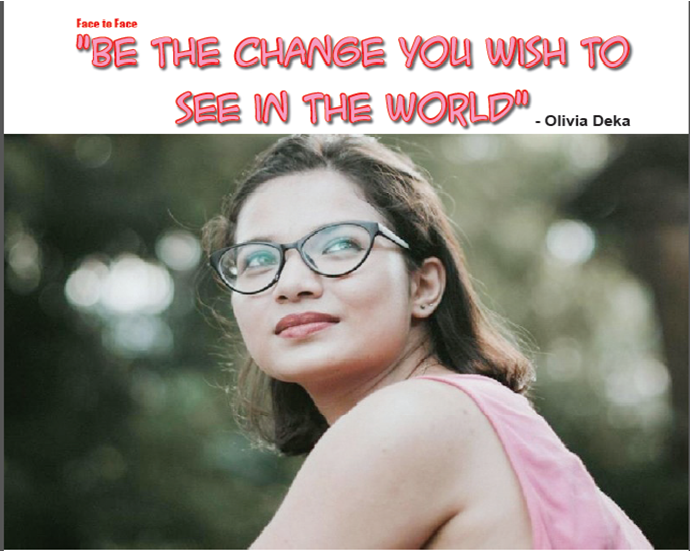 Olivia Deka from Tezpur, Assam has made the state proud by being the only girl from all over India to attend the ChangemakerXchange summit in Phillipines 2017. She is the Co-founder and Director of Finderbridge Tourism, a socio progressive startup based in Assam. To know about her achievement in personal, we contacted her and here's she has got to say us all. Eastern Panorama in an interaction with the young talent Olivia Deka.
Can you tell us something about ChangemakerXChange?
Cha n g e m a k e r X c h a n g e stands for an exchange of ideas between young people who are working on innovative solutions to social, environmental or societal problems in their immediate surroundings. At five-day exchange meetings, we are to deepen our knowledge and further develop our initiatives and business models. We are to network, enhance our own initiatives in a dialog with other participants, and start joint projects. Particularly innovative project ideas receive financial and nonmaterial support from the Robert Bosch Stiftung. The program is open to social innovators between 18 to 30 years old from Africa, Asia and Europe.
What was your objective in participating in this programme?
The objective of the program was to be able to share time and space from peer to peer, sharing of knowledge, experience, passion and challenges. In CXC they cultivate awareness of holistic well-being and focuses on social impact. For me, the experience was an eye opener about how creatively we can deal with so many social problems just round the corner. It's just a mindset. Everyone can be a Changemaker. We Changemakers dream of a Changemaker World. I went there to learn from my peer network and indeed we shared deeper bond than just a learning experience.
How are you trying to gap the bridge of discrimination?
Finderbridge is trying to bridge the discrimination gap by using the medium of promoting Community based Rural Tourism. We in FinderBridge believe in, accepting a culture and people from different communities. It is important to embrace their ethnicity which is possible only by creating an environment - a safe space, where there can be exchange of culture, cuisines, art and folklores with the localities.
Tell us something about yourself?
To read the further article please get your copy of Eastern Panorama March issue @http://www.magzter.com/IN/Hill-Publications/Eastern-Panorama/News/ or mail to contact @easternpanorama.in