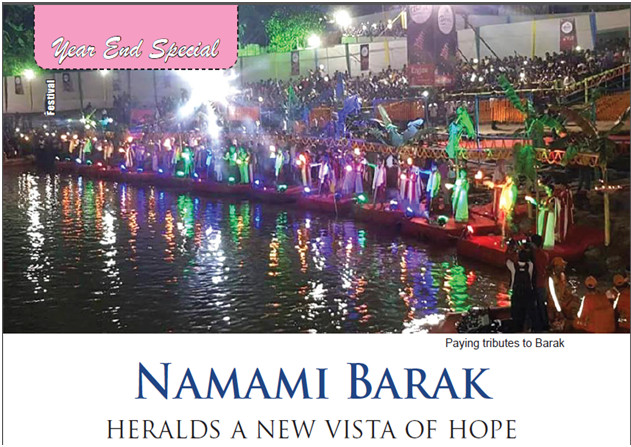 The three day 'Namami Barak' festival after 'Namami Brahmaputra', a noble and innovative concept of Sarbananda Sonowal Government has opened a new vista of hope for the 40 lakh people of Barak Valley. It has been a multidimensional and multifaceted initiative in close coordination with the administration of all the three districts of Cachar, Karimganj and Hailakandi not only to build up ties and revive heritage but also to showcase Barak's potential and possibilities to emerge as a hub of trade and commerce. A new dimension was added to the Grand River festival by arranging various events and cultural programmes in different venues like Aartighat, Ek Bharat Shrestha Bharat, Barak Museum, Agrasar Barak, Food Zone, Sports Zone, Amader Barak, Theatre and Kushiara Eco-zone.
It was not just a show but a serious effort by any state government after 70 years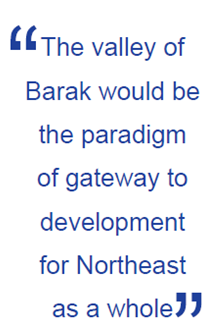 of Independence to take up concrete action plan for development of the most neglected and discriminated south zone. People could realize Chief Minister Sarbananda Sonowal "meant business and his heart was open equally for this valley". Paying rich tributes to river Barak, the lifeline of the valley, the Chief Minister dedicated his government to work in the larger interest of all sections of people. More inspiring were the words of Ram Nath Kovind, President of India, at a glittering function of the closing ceremony, when he hailed "Namami Barak as opening up immense opportunities for development of Barak".
"The people of this valley are lucky", the President said, "Who live along the bank of Barak which means most fortunate". He also had high praise for the most dynamic Chief Minister Sarbananda Sonowal who was the very "epitome of achievements." Barak and Brahmaputra Valleys share same hopes and aspirations in quest of peace and harmony as noted singer Bhupen Hazarika describes Assam as the most beautiful land with bountiful of nature. Barak would be a link to ten ASEAN countries with the trans South Asia connectivity. The President said, "I am definite that 2018 will bring cheers for the people of this valley."
Himanta Biswa Sarma, Minister of Finance, Health and Education, focused on the river system of this zone and said, "This valley has rich culture, literary values, tradition and the water bodies of Chatla and Sonbeel representing the eco system of pride which can be exploited to develop trade and tourism". The festival has also brought into focus how the ever improving and expanding air, rail, road and highway connectivity, the most important being Silchar-Saurashtra Super Highway, will make Silchar play a pivotal role in the Act East Policy. With Barak being declared as National Waterway 16 by the NDA Government, the Chief Minister launched dredging of the river to make it navigational which will be completed by June 2018. That will be yet another major move forward for economic boost up and industrial rejuvenation.
Jyoti Lal Chowdhury
To read the further article please get your copy of Eastern Panorama March issue @http://www.magzter.com/IN/Hill-Publications/Eastern-Panorama/News/ or mail to contact @easternpanorama.in