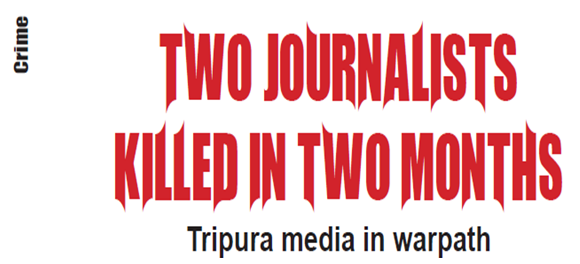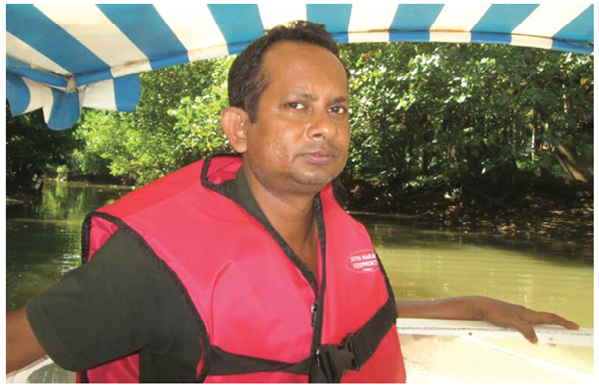 The media fraternity in Tripura became desperate against the left front government seeking CBI probe following murder of two journalists in two months – one in the presence of police and another in the chamber of a commandant of Tripura State Rifles. As many as 12 professional bodies of journalists of the state have launched a common platform – Forum for Protection of Journalists (FPJ) to press for the demand of CBI probe into the murder of journalists Sudip Datta Bhowmik and Shantanu Bhowmik, to pass separate bill for the protection of journalists from violence.
Tripura government has however, constituted SITs for both the incidents rejecting the demand of CBI. After murder of Shantanu Bhowmik on September 20 in presence of police at Mandai, left front government constituted first SIT, led by IGP (armed force) G S Rao. It could not make any breakthrough except the arrest of four tribal youths claimed to be innocent and drug addicts. But in case of Sudip Datta Bhowmik who was gunned down at TSR 2nd battalion headquarter at R K Nagar of Agartala on 21 November, the government constituted SIT under DIG (southern range) Arindam Nath where IGP (armed force) Rao is accused of being a conspirator in the case. While producing Nayak shubedar Amit Debbarma and Rifleman Dharmendra Singh of the same battalion in the court, police claimed that Nandalal Reang, personal guard (PG) of Commandant confessed that the plot of murder was created on 19 November by Commandant Tapan Debbarma and both of them had discussion at the residence of the commandant. "Nandalal opened fire from his following instruction of the Commandant in the parade ground inside the campus where Amit and Dharmendra had played a big role in the execution as per the order given by Tapan Debbarma," police informed the court when argued for their remand. According to the investigating team, so far the information revealed by the accused, Tapan Debbarma had a professional relation with Sudip Datta Bhowmik for a long time. But recently he had made some news reports in Syandan Patrika including the financial corruption in the battalion and various immoral activities of Tapan Debbarma. Sudip recently got access to information of extra marital affairs of Tapan with a doctor posted in South Tripura.
"Tapan was confirmed somehow that the story could come out in the newspaper by Sudip Datta Bhowmik. Accordingly, on 19 November (Sunday) he called Nandalal at his residence and informed that one journalist has been blackmailing him and to teach him a lesson. Being a PG he has to play a vital role if required and he agreed to it," sources in police said. According to Nandalal, on Nov 19, immediately Sudip was invited by Tapan at his official chamber at 11:30 am on Nov 21 for some discussion of news matter. Accordingly, Sudi went there with due information to his editor. Both of them had discussion for an hour and had tea together. As per plan, Commandant went to toilet leaving an envelope containing Rs 12381/- on the table. Coming out from toilet Tapan Debbarma had started searching for the envelope and finally called rifleman Dharmendra inside and ordered him to search Sudip.
Sudip engaged in a scuffle with Dharmendra when he went on searching his body. At some stage, Dharmendra tied him outside the Commandant's chamber and Tapan ordered his PG to shot him but he did not. Sudip had been seeking pardon requesting to release him and assured them he will not write anything about the battalion. They released him for going out. However, Tapan Debbarma ordered Nayak Shubedar Amit to catch Sudip and take him to the ground. Both Dharmendra and Amit took him to the ground and Amit ordered Nandalal to shoot him but he refused. Then Amit had gone to the chamber of commandant again and Tapan ordered his PG over phone to shoot him twice, which compelled him to execute the order and open two rounds from point blank range in front of a few more jawans, police stated.
Biswendu Bhattacharjee
To read the further article please get your copy of Eastern Panorama March issue @http://www.magzter.com/IN/Hill-Publications/Eastern-Panorama/News/ or mail to contact @easternpanorama.in