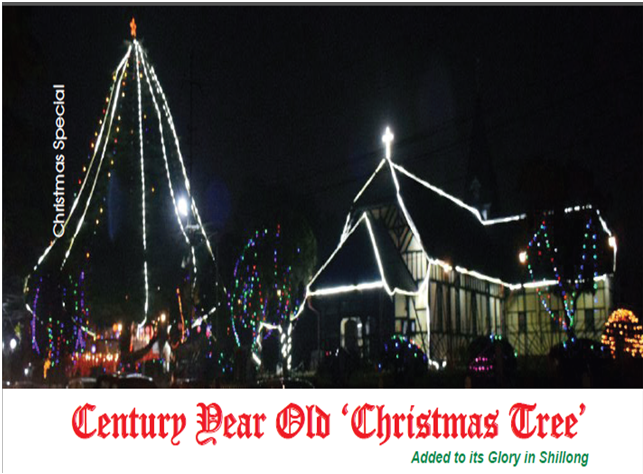 It is not wrong to say that in the year end Christmas 2017, the century year old Cedar tree has attracted more spectators than the other seasons. The 143 year old tree stands strong on the premises of the All Saints' Cathedral. It was planted to mark the beginning of the church on 22nd August 1874 by the then Viceroy of India, Lord North Brook. The foundation however, collapsed in the Assam earthquake on 12th June 1897 but the magnificent tree survived along with few religious items which are preserved in the Cathedral. It is one of the rarest trees in the state.
This magnificent tree stands firm and proud beside the All Saints' Cathedral and is decked up with decorations during every Christmas season. Christmas carols and programmes are usually held under this tree and also around Shillong. After decorations the Cathedral as well as the tree attracts plenty of tourists, both foreigners and locals, who take pictures of the tree.
Christmas celebrations in Meghalaya or anywhere else in the world begins with special evening prayers and midnight masses in various churches on Christmas evening. On this auspicious season people exchange greetings of peace and love for each other, while faithfuls attend church services. Churches in and around city are decorated for the occasion as it attracts both the faithful and tourists alike on Christmas Eve.
Donboklang Wanniang
To read the further article please get your copy of Eastern Panorama March issue @http://www.magzter.com/IN/Hill-Publications/Eastern-Panorama/News/ or mail to contact @easternpanorama.in