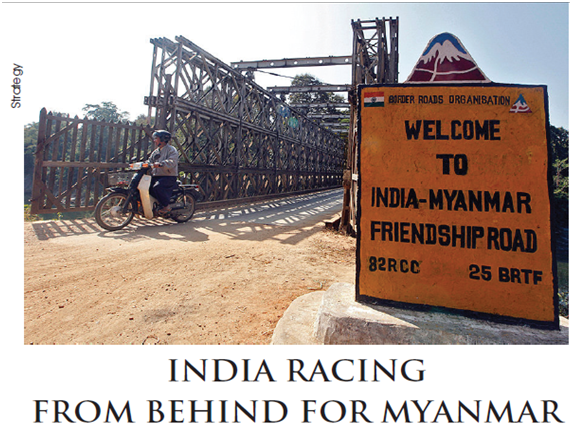 Obviously, India is paying a heavy price for not making Nehru's statement a guiding principle in developing its relations with Myanmar and today it is aggressively fighting for space not only with China, the most entrenched power in Myanmar but also with Thailand and Singapore.
With democratic reforms taking place in Myanmar, India sees this as a strategic opportunity to counter Chinese influence in Myanmar as well as an opening to the booming ASEAN market with northeast India as the gateway. While it does not expect to rival China's influence in the near future, India is hoping to counter the Chinese equation by presenting itself as a formidable alternate.
Having paid a damaging price of sacrificing geo-political interests in its rejection of the military junta in support for democratizing Myanmar, Indian foreign policy of Act East is how India is looking to engage Myanmar in current times.
India sees Myanmar as the springboard for its Act East Policy, where India can establish physical connectivity between Southeast Asian countries and its northeastern states via Myanmar.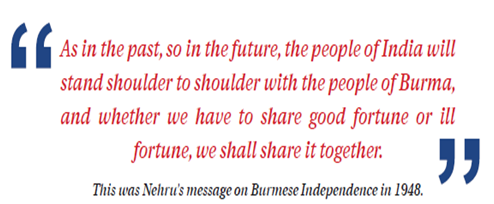 Even though India's political will to engage Myanmar has strengthened, it however lacks infrastructural capability to outdo China in infrastructure projects in Myanmar. Despite being considered as one of the defining projects of India's Act East Policy, the India-Myanmar-Thailand Trilateral Highway project, launched in 2012, has missed it's 2016 deadline. This project is supposed to connect Moreh in Manipur to Mae Sot in Thailand via Myanmar. India proposed to extend the trilateral highway to other Southeast Asian countries such as Cambodia, Laos and Vietnam upon completion.
China on the other hand is making substantial investments in infrastructural projects with a high completion rate. China considers Myanmar as a gateway to Indian Ocean with the vision for an alternate maritime route and a source of hydrocarbon resources for its energy needs.
Besides working on many infrastructure projects across Myanmar, China is building the Bay of Bengal Port in KyuakPyu, with roughly 70-85 percent equity share. It is also developing a $10 billion KyaukPyu Economic Zone, which includes pipelines that connect the Chinese landlocked province of Yunnan to transfer oil products. With Myanmar undergoing democratic reforms and its political interactions with the West accelerating, the race between India and China over influencing Myanmar is growing more intense. Responding to the changing dynamics, India has stepped up its strategic presence in Myanmar.
Sunzu Bachaspatimayum
To read the further article please get your copy of Eastern Panorama March issue @http://www.magzter.com/IN/Hill-Publications/Eastern-Panorama/News/ or mail to contact @easternpanorama.in