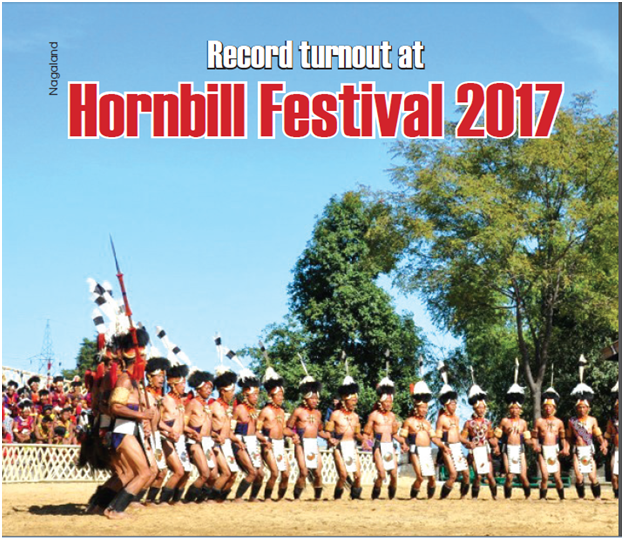 Nagaland's Hornbill Festival 2017 at Naga Heritage Village Kisama, witnessed a record turnout in the 18th edition. The 2017 edition of the Hornbill Festival drew a record turnout of 2,43,214 visitors. This year, a total of 2401 foreign tourists, 38,700 domestic tourists and 2,02,113 local visitors from Nagaland visited the festival. The last day of the festival recorded the highest number of visitors this year, with a head count of 66,474. The data was released by the Statistical in Charge of the Tourism Department.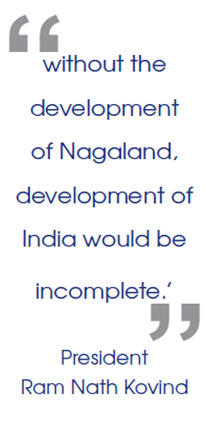 On his maiden visit, President of India, Ram Nath Kovind, inaugurating the Hornbill Festival, said that he was honoured to be a part of the hornbill festival which also coincides with the statehood day. He acknowledged, the Chief Minister of Nagaland and his council of ministers for such an impressive show. He said that the Hornbill Festival and the Hornbill International Rock Contest represent the diversity of the Naga society and is also the perfect platform to showcase the Naga culture and tradition. He said that the Naga people are endowed with talents and mentioned that the Nagas are progressing in all fronts.
He categorically mentioned that 'without the development of Nagaland, development of India would be incomplete.' On this great occasion, he conveyed his warmest greetings to the people of Nagaland and tourist coming from mainland and different parts of the world to witness the Hornbill Festival.
Nagaland Governor P.B.Acharya said that the Hornbill festival is a celebration of the vibrant people of the state and its colourful culture which is fittingly made to commence on the statehood day. He congratulated the Chief Minister of Nagaland, T.R. Zeliang, the state Government and the people of Nagaland for organizing this wonderful festival will provide an opportunity to the tourists to peep into the rich cultural heritage and tradition of Naga tribes.
Xavier Rutsa
To read the further article please get your copy of Eastern Panorama March issue @http://www.magzter.com/IN/Hill-Publications/Eastern-Panorama/News/ or mail to contact @easternpanorama.in