Ever heard of an Urdu poet from the Northeast? Presenting Rohan Gogoi –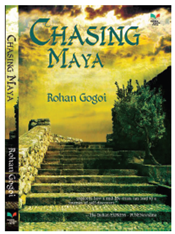 the 'Chasing Maya' famed English novelist, who has now debuted as an Urdu poet with the launch of his maiden Hindi-Urdu poetry collection, "Rahgeer-e-Rehguzar". The multi-lingual Corporate Communicator, who debuted as a published author in 2012, has penned over 100 Hindi-Urdu poems and lyrics so far. Remarkably, his works have been endorsed by none other than the superstar Bollywood lyricist, Sameer Anjaan.
Gogoi's Urdu escapades date back to early 2014, when the popularity of 'Chasing Maya' was still lingering on and he went on to write his second English novel… One fine day, while working on a specific character for his new novel, he suddenly discovered his latent love for the Urdu language. The character in question was meant to be an ardent follower of Urdu poetry. Gogoi wanted him to sound reasonably authentic and felt compelled to infuse words and phrases of Urdu into his lines. "I couldn't read Urdu, but fortunately, many of the immortal works of poetry in that exquisite language were widely available in the Devanagari script… And then, YouTube videos on the masterpieces of celebrated modern Urdu poets came in as another huge blessing." Gogoi confesses.
Interestingly, Gogoi is a first generation Hindi speaker, and arguably, the first published Hindi-Urdu poet, hailing from the northeastern part of India. "I am not a conventional Hindi / Urdu poet." says Gogoi, who often expresses astonishment at how far his tryst with Urdu poetry has brought him. Evidently, the passion persists; as we see Gogoi coming up with a full-fledged Hindi-Urdu poetry collection – Rahgeer-e-Rehguzar. Published by Pune-based Western India Imprints, book is scheduled for release this season. With 40 poems, sketching a surprising range of deep and dark facets of life, "Rahgeer-e-Rehguzar" is his first literary endeavour in Hindi and Urdu.
Gogoi insists that writing English novels is his first love, but he sounds rather emotional about his Urdu writings. He would hold his book of shayaris close to his chest and say, "I will certainly want to continue writing my novels in English but Urdu poetry has now become an inseparable part of my life. Writing in Urdu has such a healing effect on you. It doesn't just give you solace; it exposes you to the rare feeling of falling in love with oneself!"
Gogoi, the versatile wordsmith, speaks several Indian languages including Marathi, Gujarati and Bengali and writes lyrical poetry in English, Hindi, Urdu, and his native Assamese. He is currently recording an Assamese music album in his own voice with all the eight songs penned by him.
Pranjal Saikia
To read the further article please get your copy of Eastern Panorama March issue @http://www.magzter.com/IN/Hill-Publications/Eastern-Panorama/News/ or mail to contact @easternpanorama.in