A disappearing if not neglected site, abounded with history and legends in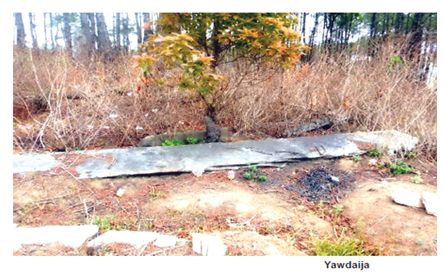 the bygone era of yore, lie just a stone thrown from NH 44. One of the most collapsed monoliths is lying on the ground shown in the picture. The locale where the ruins are located on a hillock is now also called, by the local villagers as Loomdaija, besides its ancient name 'Yawdaija' in Mookyndur Village, West Jaintia Hills (i.e. the market where boiled rice was sold). The site of the ruins, had it been restored is worth visiting especially for academicians or researchers and also can become a tourist destination.
Krem Jwai
For its modern populace, Jowai appears to have no cave at all, nor even a legend to boost of; more so, in 'Inner Jowai' plateau. But, this square-like hole or 'cave' as only identified by the person who shot this photograph as 'Krem Jwai'... was perchance found, like hanging on the side of a perpendicularly right-angled rock on the hill slope, at a distance not far away from the 'dying' Rymphum Waterfalls.
This found is probably lending credence also to the local legend of earliest Jowai people who had story-told by words of mouth of the existence of a certain hide out called 'Krem Syiem i.e. King's Cave by the side of the pathway of river Myntwa (in Jowai) and which also had historical linked with a King of the old Hima Jaintia i.e Jaintia Kingdom.
Kchaij Romthe
The "Kchaij Romthe" on Wah Siahmoid is located in the landscape of Wahsiahmooid that is situated mid-way in between Kongong and Pynthorsale Village in East Jaintia Hills. Once, in mid 1990s, a wooden footbridge across this stream and an emerging park-like garden...the later also designed to evolve on both sides of the stream.... were in the existence and would-be body, though formed and named the "organized Wahsiahmooid Scenic Ruins of YAWDAIJA attraction Fund", which survived for some years only. No wonder these waterfalls if again tapped and together with the picturesque valley of Wah Siahmoid in the upstream are worth a visit.
U.F.G Laloo
To read the further article please get your copy of Eastern Panorama March issue @http://www.magzter.com/IN/Hill-Publications/Eastern-Panorama/News/ or mail to contact @easternpanorama.in