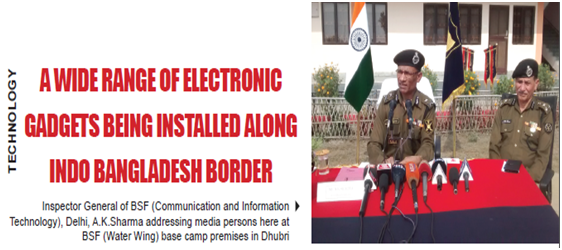 A wide range of electronic gadgets including Drone, for the first time of its kind in the country is being installed along the Indo-Bangladesh riverine border to stop trans-border movements and illegal activities in Dhubri district.
Inspector General of BSF (Communication and Information Technology), Delhi, A.K.Sharma while addressing media persons here at BSF (Water Wing) base camp premises in Dhubri recently, informed that modern and innovative technologies is being installed in order to ensure total sealing of the border where even a flying bird crossing the border could be detected even at night with night vision devices.
Installation of electronic gadgets already got underway along the 60.70 kms riverine border comprising 14 Border Out Posts (BOPs) and likely to be completed by October or November this year, Sharma said.
Sharma flanked by high BSF officials of Panbari camp informed that security forces experienced difficulty to maintain human surveillance in this area of border round the clock irrespective of the terrain and weather conditions.
"So after a long experiments and tests, it has been decided to introduce a chain of surveillance devices along with presence of security forces, which will not only cover every inch of the international border but will also arrange overlapping of surveillance by using multiple systems to detect any intrusion and trans border movements ", Sharma added.
These technical systems are tested and found to be not prone to fatigue and might carry out continuous and regular watch on any kind of terrain, he added.
Sharma while replying to a question of a media person informed that, important aspect of this new system would be recording of events in several forms of data for replay, evidence and analysis, which will help to understand and improve operational and sociological activities in the area.
Bijoy Kumar Sharma
To read the further article please get your copy of Eastern Panorama March issue @http://www.magzter.com/IN/Hill-Publications/Eastern-Panorama/News/ or mail to contact @easternpanorama.in