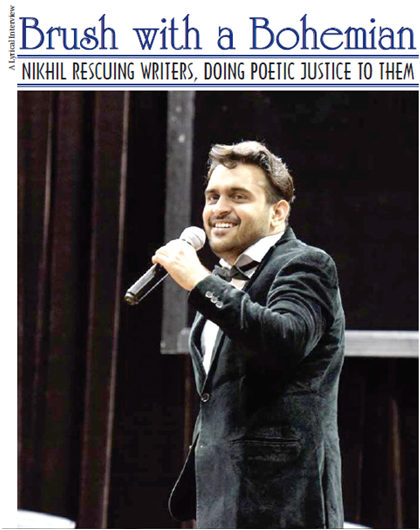 Ever head of an outfit that "Rescues Writers" from across the globe? Believe me, there is one. The Walnut Discoveries Private Limited is the world's only such company that saves the poets, lyricists, writers, novelists and film directors who could not make them big in their repeated efforts, thus ending up as depressed souls.
Very interesting it may appear the owner of Walnut Discoveries Dr. Nikhil Chandwani is India's youngest nominee for the Padmashree Award for 2018 for "rescuing and publishing 104 young writers in India". This youngest Ph. D. degree holder in English Poetry from the White Lake University of USA has turned the over 9300 teens and adults as successful in their creative lives. Some of them, total failure in their lives, felt depressed and even committing suicide, were given an u-turn in their writing career making them ultimately known to the world as writers. Nikhil bagged "Artist of the Year Title" of The American Society in the presence of ex-US President Barak Obama for his creative writings. He was the first Asian to receive this award.
Nikhil, after trotting the entire globe and India to rescue writers, now wants to bring the seven North-Eastern states of the country on the international fiction-writing map. He believes the ancient tribal folk tales that reverberates in the jungles, hills of North Eastern India can mesmerize Westerners, Africans, Europeans and all others. This will catalyse in the emergence of new writers from this part of the country. Nikhil will soon start meeting the Chief Ministers of all the seven North East Indian states to submit the proposal of Walnut Discoveries to help this zone as an international creative corner.
Nikhil is a total Bohemian, to tell you the truth. But then all geniuses are eccentric, living in their very own dreamy world and Bohemian be it painter Van Gough, Leo Tolstoy, Sarat Chandra Chattopadhaya of Devdas-fame or the Bollywood icon Raj Kapoor. In fact, some sort of madness is required to give supreme expression to your creativity. And it is creativity that lasts till eternity.
In a tete-e-tete with the Eastern Panorama, this writer of "Coded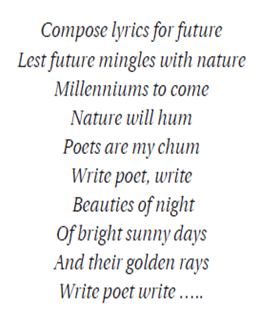 Conspiracy" awarded recently by the American Literary Forum Society, said he would hold special sessions and run writer's grooming classes in all the seven states of N.E. India to turn local boys and girls turn prolific writers. He interacted with Amlan Home Chaudhuri to divulge his game plan.
Eastern Panorama: As a poet, can you gift "Seven Sisters of India" a sonnet?
Nikhil: The Mother Nature's ethereal touch makes the people of Meghalaya, Mizoram, Manipur, Assam, Arunachal Pradesh, Tripura and Nagaland instinctive writers. I dedicate this sonnet to the future poets of these states: In the mountain's Lush-green, sloppy edge Poet searches his age Age-less, whispers the nature
Eastern Panorama: Can hum few rhythmic lines on Shillong?
Nikhil: Nikhil Chandwani Foundation has plans to conduct writer's workshops in Shillong, Guwahati, Aizawl, Kohima, Agartala, Itanagar and Imphal. I want to create a group of young writers, poets and documentary film from these cities. Walnut Discoveries would not only groom young writers to write but also publish their creations. I am dedicating following words for Shillong:
As the night descends I creed through mountains In the sky, diamonds dazzle Shillong is nature's marvel
Eastern Panorama: How to discover hidden talents of Assam?
A. Chowdhury
To read the further article please get your copy of Eastern Panorama March issue @http://www.magzter.com/IN/Hill-Publications/Eastern-Panorama/News/ or mail to contact @easternpanorama.in