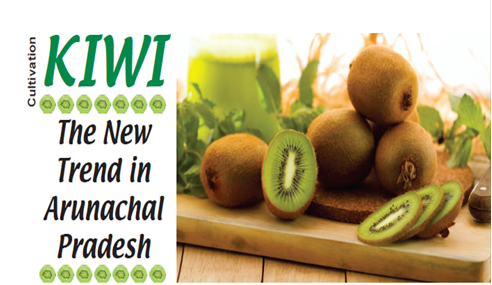 Kiwi fruit or Chinese gooseberry is an edible berry with a fibrous, dull greenish-brown skin and bright green or golden flesh with rows of tiny, black, edible seeds which are found in the hills of Arunachal Pradesh. Kiwi's fruits from Arunachal Pradesh are considered new to the people of the State or country as a whole since people have always preferred imported Kiwis.
India imports approximately about 4,000 tonnes of kiwis from Italy, New Zealand and Chile with Zespry being the most wanted brand for us Indians. The mindset of being "locally produced" made Arunachal kiwis has failed to compete with imported kiwis, they can only sell for 30 per cent lower than the price commanded by the multinational market prices
It was only in 2016 that Arunachal kiwis are gaining their popularity, when locally grown kiwis are being exported to other North-Eastern states like Meghalaya, Assam, Nagaland etc. The Arunachal kiwi is an organic fruit which are traditionally and naturally cultivated in the hills and valleys of the state especially in the Ziro region.
Arunachal Pradesh is India's largest producer of Kiwis fruits which annually produces an average of 4,720.5 MT of kiwi. Being the largest producer of Kiwi, the state recently saw people producing wine out of kiwis which hit the international markets. Drinking wine is a tradition in tribal culture but preserving the drink for a long duration was not possible because of lack of modern wine-brewing methods. Kiwi wine is a solution to this gap between tradition and technology. The wine is being sold in the brand name of 'Arun Kiwi' which was produced after signing MoU between Arunachal Pradesh Horticultural Marketing & Processing Board (APHPM) and Pune-based Hill Crest Foods & Beverages Pvt Ltd. Arunachal former Chief Minister Nabam Tuki along with Agriculture-Horticulture Minister Chowna Mein launched the 'Arun Kiwi'. Rhythm Winery of the Hill Crest Foods & Beverages Pvt Ltd is sourcing over 2.5 tonnes of kiwi fruits from Arunachal for brewing the wine and the revenues from this business will go to the APHPM&PB while Rhythm Winery is only a service provider working on project basis.
During the inauguration ceremony Chief Minister Nabam Tuki hailed the concept of producing wine from kiwi and other available fruits like orange, pineapple, apple, passion fruit, etc. He also urged the company to also look into other alternative of producing Juice which will benefit the youth and women of the state in providing employment.
Other prominent food products from other North-Eastern States of India are-
2. Meghalaya's ginger and
3. Manipur's black rice and
5. Assam's Tea and Muga silk
To read the further article please get your copy of Eastern Panorama March issue @http://www.magzter.com/IN/Hill-Publications/Eastern-Panorama/News/ or mail to contact @easternpanorama.in