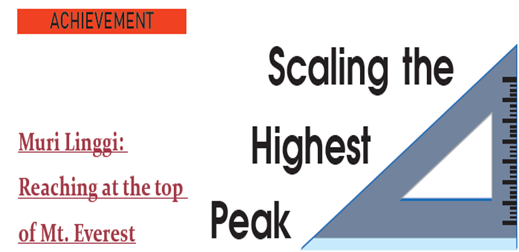 She is the supreme manifestation of Naari Shakti: the women power. The entire nation is proud of her. Her name will forever remain in the history of Indian mountaineering.
Why not? Muri Linggi conquered the world's highest peak Mt. Everest. Just see the indomitable courage of this 40-year old Muri, she trekked the mountain even during the night to cut short her time to reach at the top of Mt. Everest.
At 8 am on May 14, 2018, Muri conquered Mt. Everest after trekking 29,029 feet thus creating a world record. Residing at Roing in Lower Dibang Valley District of Arunachal Pradesh, Muri is the third woman from the state after Tine Mena and Anshu Jamsenpa to achieve this distinction.
A peon in Arunachal Pradesh's Education Department, Muri is the mother of four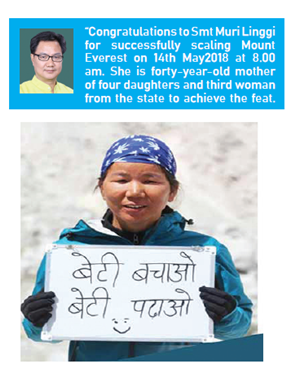 daughters. Muri told news persons at her flag off ceremony that the first woman from Arunachal Pradesh to scale Mt. Everest Tine Mena is her inspiration.
Interestingly in 2013, she was in the team of Mena in a recee track from Anini to Maline in Dibang Valley District. Muri also was in the team of Mena that scaled 6622 meter high Mt. Menthosa in Himachal Pradesh. In 2016, Muri had been in the mountaineering team of Anshu Jamsenpa during the 6222 meter high Goriachen Peak. Anshu too had scaled Mt. Everest.
The Epic Trekking
The journey of Muri offers us a very interesting tale. As ceremonies take place before flagging off a mountaineer, one was also held for Muri before setting out for Kathmandu in Nepal. The Rajya Sabha Member of Parliament Mukut Mithi flagged off her expedition at Roing on April 5, 2018.
Amlan Home Chowdhury
To read the further article please get your copy of Eastern Panorama March issue @http://www.magzter.com/IN/Hill-Publications/Eastern-Panorama/News/ or mail to contact @easternpanorama.in