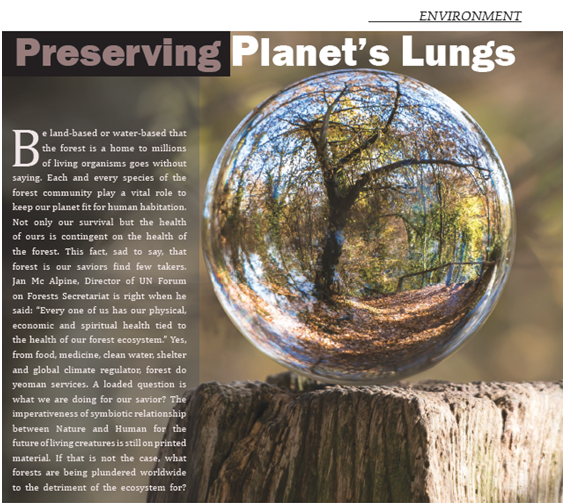 The shocking revelation by estimation is that every year there is a loss of tropical forest, "the powerhouse of evolution" from earth is more than 150,000 square kilometer. Being at the mercy of human race future of forest is at stake. The irony is, we the most intelligent beings are spelling our own doom by decimating forests. Unbeknown to ourselves, we are digging our own grave by our insensitive exploitation of resources. A host of Environmental legislation going by the unabated destruction has failed to curb the menace. Offshoots are the rise of earth's temperature, drought, flood, piling of pollutants and man-animal conflict etc. So alarming the pace of deforestation drive in our mother earth is that 54 countries are reported to have lost about 90 percent forest. In a developing country like India, forests have to bear the brunt of development such as the expansion of both human settlement and road network.
Illegal logging to meet the construction boom has taken a turn for the worse.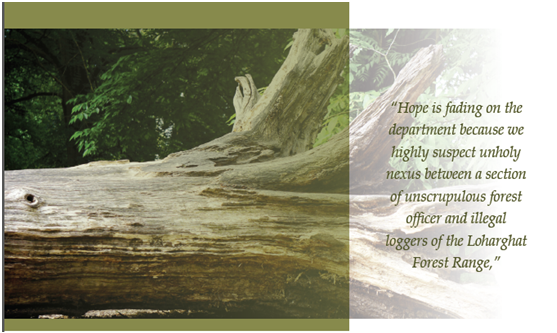 According to the India State of Forest Report 2011, forest and tree cover in the country is 23.81 percentage which is two percent increase from 21.02 percentages in 2009. Significantly, there is a remote chance of meeting the target of Planning Commission of India to bring 33 percent geographical area of the country under forest covers.
Forest destruction is primarily ascribed to both natural and human-triggered. There is a silver lining in decimation caused by natural factors like floods, forest fire, windstorm, cloudburst etc. but human-induced damage denies recovery. "There is a scope of regeneration in case of naturetriggered damage because forest could cope with it," the expert said. Despite its overwhelming importance, the forest has failed to live up to its life-sustaining dignity. They observed that restoration of already degraded complete natural forests is next to impossible but the remaining natural forest could be preserved. As a matter of fact, forests have fallen to the need of a section of vulnerable class as well as to the insatiable greed of a particular section of the well-to-do class. For the logging syndicate felling of timbers like sal, teak and consequent supply for sawing is not a difficult task. It is due to soaring commercial importance, these premier timber species are being plundered. In areas along Assam and Meghalaya, deforestation is allegedly a regular phenomenon. Cashing on the battered economic status of a section the latter are easily motivated to be indulged in illegal tree felling activities. "Felling trees in the forest and supplying either the logs or sawn timber to consumer points have been taken as employment opportunities," said a group of senior citizens. Recently forest dwellers along the border area have seized several logs of fallen sal trees in Chandubi area.
"Hope is fading on the department because we highly suspect unholy nexus between a section of unscrupulous forest officer and illegal loggers of the Loharghat Forest Range," Ashok Nonbag, a student leader claimed. On the other hand, the dedicated forest officials, who are true to their profession found them handicapped due to infrastructure inadequacy, basically able-bodied manpower. Another area of concern is the threat of encroachment. According to a report of 2010, forest land under encroachment in the state is 485,674 hectares.
Kishore Talukdar
To read the further article please get your copy of Eastern Panorama March issue @http://www.magzter.com/IN/Hill-Publications/Eastern-Panorama/News/ or mail to contact @easternpanorama.in