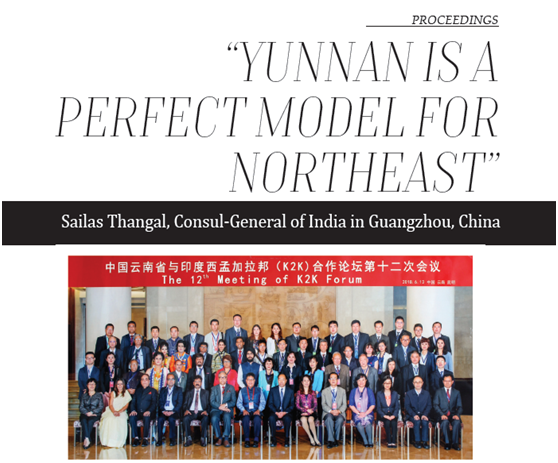 As part of the Belt and Road Initiative, China is opening corridors for trade with the neighbouring countries. A series of programmes were launched in June, 2018 to enhanced people to people contact and for better understanding and cooperation amongst China, South Asia and South East Asian countries especially in tourism, trade, agriculture and cultural relations.
The first China- South Asia Cooperation Forum, the 12th K2K Forum and the 25th China Kunming Import-Export Fair were held from June 12 to 20 where delegates from 87 countries attended.
The K2K (Kolkata to Kunming) Forum was organized by the Development Research Center of Yunnan Provincial People's Government, the Center for Studies in International Relations and Development of India, Consulate-General of the People's Republic of China in Kolkata and the Consulate-General of the Republic of India in Guangzhou. The event is coorganized by Yunnan Province Business Research Institute and Yunnan International Trade Association.
The K2K Forum is attended by Senior Academicians, Policy makers, Senior Government officials and Think tanks to promote relations in different fields between Eastern India and South West China specially Yunnan Province of China. Business ventures and trading is increasing at a high rate in the last few years.
The China-South Asia Expo is international comprehensive exposition jointly organized by the Ministry of Commerce of People's Republic of China and the People's Government of Yunnan Province co-hosted by commercial authorities of South Asian countries at Kunming Dianchi International Convention and Exhibition Center.
Sailas Thangal, Consul-General of the Consulate-General of the Republic of India in Guangzhou, speaking at the K2k Forum to promote tourism and agriculture and to initiate better relations between India and China made a proposal that 2000 Indian delegates should visit China and the same number should visit India every year. The K2K Forum, according to Thangal, should not be confined between Kolkata and Kunming only but expand and institutionalize at the provincial levels of Yunnan Government, West Bengal Government and the Governments of the Northeastern states of India.
Q. WZ: How can Yunnan, the Himalayan Province of China relate with Northeast India?
ST: Yunnan could be the development model for Northeast India. We have similar climatic conditions. We have similar geographical topography. We have lots of things in common including demography. So, I don't think we need to create another wheel for Northeast India. We can just take the mould from Yunnan's model and replicate it depending on our requirement, on our specific industry or agriculture that we need to develop. For example, Yunnan exports 2 to 3 billion dollars worth of flowers through floriculture also 2 to 3 billion dollars of mushroom.
Yunnan Province is not very strong in industrial manufacturing like in other parts of China. They are very strong in tourism, agriculture and horticulture which we can replicate in Northeast India. For instance, Yunnan receives 4 million foreign tourists annually and Northeast has fantastic tourist destinations which we need to promote. Yes, we need to create infrastructure for the tourists to come and rest peacefully and travel conveniently. If we provide all these, our Northeast is a tourist's heaven.
Wungkui Zimik
To read the further article please get your copy of Eastern Panorama March issue @http://www.magzter.com/IN/Hill-Publications/Eastern-Panorama/News/ or mail to contact @easternpanorama.in