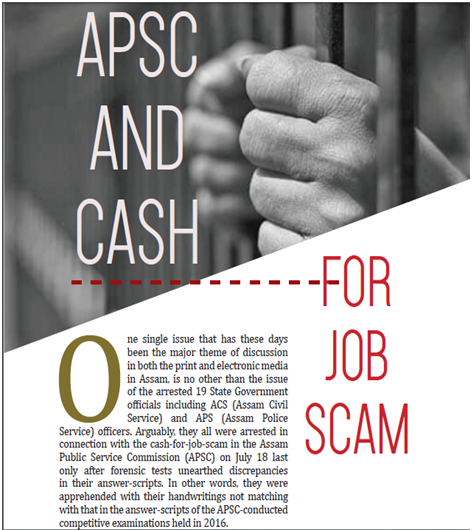 The 19 officers including the APS Pallavi Sharma, the daughter of the BJP MP from Tezpur, Ram Prasad Sharma, and Monika Teronpi, the niece of the BJP legislator Joyram Enleng, who were selected in the said examination, when arrested Rakesh Paul its chairman and two other members, Samedur Rahman and Basant Kumar Doley are already behind bars. With their arrests, however, the total number of officials who have so far been arrested in connection with the cash-for-job-scam has gone up to 65.
This unsavory development is what has essentially revealed how large-scale corruption has subverted the impartial recruitment procedure of such a democratic institution as the APSC for the State Government plum posts. The arrests of the daughter of the BJP MP Sharma and a niece of a legislator of the same party expose how the influential political bigwigs in tandem with the scam-tainted top APSC functionaries understandably diluted the due selection process.
That the on-going investigating process has been of impartial nature is well mirrored in cracking down on all the 19 officials on July 18. Six of the arrested officers including Sharma,s daughter Pallavi, for example, reportedly filed bail petitions. These were also rejected by a Special Court dealing with the graft-related cases. Pallavi cited her MP father's illness as a ground for bail. He would reportedly undergo a kidney transplant next month.
The other five officers whose applications for the purpose were also equally turned down including Barnali Das, Sibur Rahman Borbhuyan, Rituraj Neog, Leena Krishna Kakoty and Gulshan Daulagopu.
The BJP MP Sharma reportedly did not take his daughter arrest, a DSP on probation in Sivasagar district, lying down. Soon after her arrest, he was of the view that she was falsely-implicated as part of a political conspiracy to use the case to deny him a ticket for the 2019 Lok Sabha poll.
Dwaipayan Dasgupta
To read the further article please get your copy of Eastern Panorama August issue @http://www.magzter.com/IN/Hill-Publications/Eastern-Panorama/News/ or mail to contact @easternpanorama.in