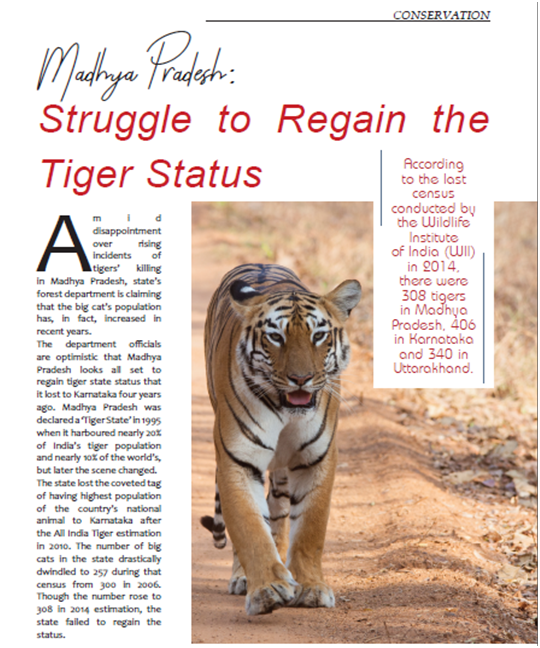 Madhya Pradesh is also the state where the death toll of big cat is highest in the country—47 in four years, including 13 in 2018. According to data of the National Tiger Conservation Authority, of the 98 tiger deaths in India in 2017, 26 were reported from Madhya Pradesh. The Madhya Pradesh Wildlife Special Task Force has arrested around 200 poachers this year who were involved in the killing of tigers and pangolins and trading in their parts. Yet the unnatural deaths of precious wildlife are not stopping.
The state is a hub for poachers who regularly exploit the wildlife in the region with a deep and entrenched network around the protected forest areas. Ritesh Sirothia, a Senior Officer with the Wildlife STF, said, "We have identified people in this trade and have nabbed hundreds of them." Nomadic tribes like the Pardis, Bhelias and Bawarias are primarily involved in the trade but with recent growth in the business of new species, many educated people are also getting involved, said a wildlife officer. The trade is now going online, but the poaching continues with the poor and uneducated people living around the forest areas. However, Madhya Pradesh's Principal Chief Conservator of Forests (wildlife) Jitendra Agrawal said, they take prompt action when poaching incidents come to light.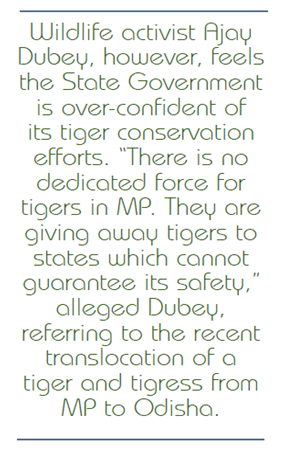 Asked about the large number of tiger deaths in MP, Agrawal said farmers were putting electric fences around their fields to protect crops and this was hurting the conservation of the striped animal. Agrawal said the tiger population has rapidly increased in MP and the felines are venturing out of the protected areas and dying due to different reasons.
The National Tiger Conservation Authority (NTCA), which monitors tiger conservation in the country, recently shot off a letter to the state forest department on the sudden increase of tiger deaths in the state. Nevertheless, expansion in the territory of tigers in the state has raised hopes of a rise in the number of the striped animals. The number of forest beats (small unit of a forest area), where tigers have been spotted, has almost doubled since 2014, according to Principal Chief Conservator of Forests Shahbaz Ahmed. Citing data collected by the State Forest Research Institute (SFRI), Deputy Conservator of Forests (Wildlife) Rajnish Singh said, the number of beats with tigers presence has gone up to 1,432 this year from 717 in 2014. The SFRI is the nodal agency for tiger estimation in the central state, which is home to nearly half-adozen reserves for the national animal.
Madhya Pradesh has the highest number of forest beats in the country. It has about 9000 beats as against 30,000 across the country, which means the state forest officials scoured almost one third of the country's forest cover.
Rakesh Dixit
To read the further article please get your copy of Eastern Panorama March issue @http://www.magzter.com/IN/Hill-Publications/Eastern-Panorama/News/ or mail to contact @easternpanorama.in