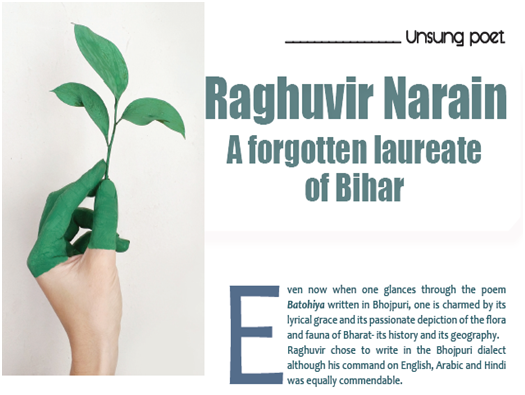 Even now when one glances through the poem Batohiya written in Bhojpuri, one is charmed by its lyrical grace and its passionate depiction of the flora and fauna of Bharat, its history and its geography, Raghuvir chose to write in the Bhojpuri dialect although his command on English Arabic and Hindi was equally commendable. When Dante wrote Divine Comedy, he preferred to write in the Tuscan dialect which later became standardized Italian language. Many singers have sung the song Batohiya but most people do not know who wrote this immortal lyric and in this connection it will be appropriate to quote a line from John Keats that Batohiya poem" is not born for death". It had become a household name in the thirties and forties of the last century and had inspired millions to feel proud of their culture and tradition.
This gentle patriotic poet Raghuvir Narain was born on 30 October 1884 in Saran district of Bihar, a place close to the birth place of Dr Rajendra Prasad, the first President of our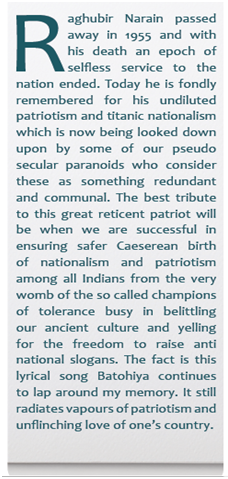 country. He did his graduation from Patna College but had to give up his higher studies due to his ill health. In our strange society quite often nincompoops succeed and genius goes unrewarded. For a pretty long time Raghuvir lived in obscurity. He had remained unrecognised and unsung.
The title of the poem means a traveller and it is addressed to a traveller visiting India. Its succinctly depicts the feelings and emotions of those indentured Indian labourers whose love for their motherland is passionately reflected. Through this poem Raghuvir has carved a niche for himself in the hearts of millions. Bhojpuri today is no more a dialect rather it has acquired the status of a regional language. Bhojpuri is a lingua franca among the people linhabiting the eastern UP, western Bihar and parts of north Bihar like Siwan, Saran and Chapra not to speak of places in UP like Baliya, Dewariya, Gorakhpur, Benares and parts of Allahabad, Gazipur and Mughalsarai.
This captivating melodious poem is a long one and is brimming with quotidian sights and sounds. The poem injects a high dose of self confidence among Indians who have forgotten their glorious culture lying covered with the silent dust of time. One is tempted to recall Bande Matram which similarly had invigorated the patriotism of Bengal. It's a song written by Bankim Chandra Chatterjee in his novel Anandmath in 1882. It is now a national song of India. During the same time Rabindra Nath Tagore wrote Amar Sonar Bangla in 1905. He wrote it because he was opposed to the partition of Bengal which was carried out by Lord Curzon. The song rekindled the unified spirit of Bengal and to raise public awareness against the partition based on communal lines. In 1971 Bangladesh adopted the first ten lines of the poem as its national anthem. A permanent tribute to the genius of Tagore.
It is interesting to mention that in 1907 Bhikaji Cama created the first version of India's National flag in Stuttgart Germany and in the middle of the flag was written Bandematarm.
Batohiya indirectly also underpins the need to abolish indentured system which was highlighted by Arya Samaj which however was confined mainly to Bihar and Uttar Pradesh. Despite his ill health Raghuvir Narain continued his literary journey and in another poem "Bharat Bhawani" there runs an undercurrent of rebellion. Other celebrated writings include Raghbir Patra Pushpa and Raghuvir RasRagya.
St. Anthony's College, Shillong
To read the further article please get your copy of Eastern Panorama March issue @http://www.magzter.com/IN/Hill-Publications/Eastern-Panorama/News/ or mail to contact @easternpanorama.in