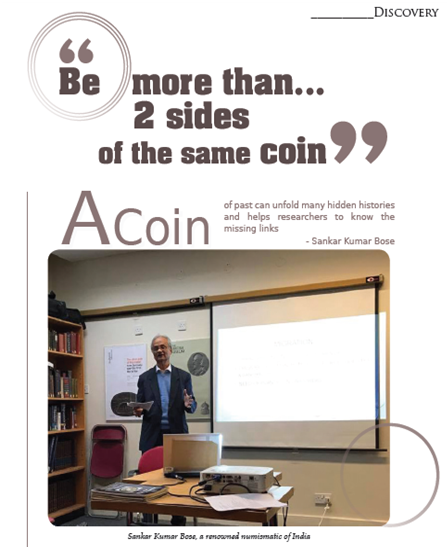 A coin as we say has two sides, and there is a proverb on it as "two sides of same coin". But Sankar Kumar Bose, a renowned numismatic of India puts it differently with connotation that coin has many sides - a powerful and solid sources of materials that speaks and tells us volume of information, which otherwise is not possible to get them by any other means.
Bose was born and brought up in Dhubri town and served in the State Bank of India in various capacities across Assam, and after retirement, he settled down in Calcutta with his most cherished love and hobby of studying deep on coinage.
Now Bose, an octogenarian, his passion and love for century old coins of Northeast still drives him to run from one place to other either for studying the newly discovered coins or for writing books or deliver lecture on numismatic on invitation by institution, universities and organisation across the country and world as well.

Bose is a visiting faculty of the Centre for Archaeological Studies and Training in Kolkata. He is at present the Trustee of the Institute of North East India Studies, remain associated with number of association and organisations both regional and national level, devoted to history and numismatics.
Bose has already written several research papers and books on numismatics covering Assam, Cooch Behar, Dimasa-Kacharis, Ao Nagas, Jaintia, Manipur, and Tripura. His various publications on North East and early Bengal have already been accepted by different universities as reference books.
Further his expertise in numismatics has earned him immense importance as an authority on North East Indian coinage at both national and international levels.
Even Centre Nationale de Recherche Scientifique (National Centre for oriental subjects), Paris has also accepted such books for their university students. This is undoubtedly a huge honour and recognition to Bose and also to an Indian numismatic at the international level.
Bose as being the former President of Numismatic Society of Calcutta, was awarded the prestigious Akbar Medal by Numismatic Society of India at Banaras Hindu University, Vanarasi in 2011 for his contribution to the Indian numismatic literature, and he was also honoured as General President of Numismatic Society of India in 2013.
Bose now has totally devoted himself on the academic interest, and in 2016 on invitation, he had delivered "Ken Wiggins Memorial Lecture" as key speaker at British Museum, London, which was jointly organised with the Oriental Numismatic Studies of Great Britain, London.
He, on many occasions, delivered lecture widely in India and Western countries on the Coinage of North East and Eastern India.
Sankar Kumar Bose (SKB) has recently been to his home town Dhubri to deliver lectures in Dhubri and Cooch Behar (West Bengal), and Bijoy Kumar Sharma (BKS), Associate Editor of Eastern Panorama got an opportunity to talk on the numismatic history of North Eastern states.
BKS: When did your interest grow towards the numismatic and how did you move on thereafter to reach this place of prominence in the numismatic world?
SKB: A very interesting story was behind it. At that time, I was serving in SBI main branch of Guwahati ( the then Gauhati), and my senior appointed me as secretary of the Coin Cabinet at Guwahati Head Office, requesting me to organise an exhibition on Coin at the capital town of Northeastern states on the title– "Story of Money" as a part of innovative banking activities.
Bose said that the entrusted responsibility had ignited and fuelled his childhood hobby, interest and fascination in regional history, culture and antiquities, and subsequently with the passage of time, his fervent passion was translated into a deeper academic interest, Bose recounted.
Bose put the entire North East and Eastern India on the world canvas with his tireless works in the field of numismatic over the fifty years.
Bijoy Kumar Sharma
To read the further article please get your copy of Eastern Panorama January issue @http://www.magzter.com/IN/Hill-Publications/Eastern-Panorama/News/ or mail to contact @easternpanorama.in