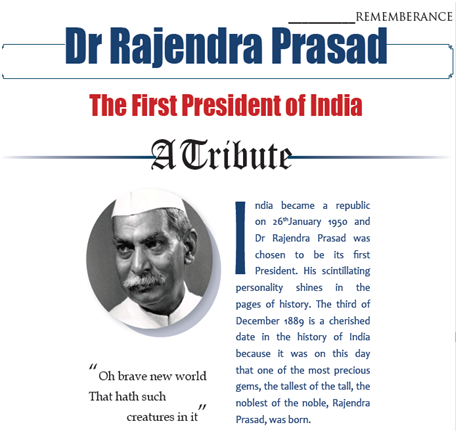 It is indeed a formidable task to encapsulate the life of such an illuminating personality in a few pages, who was not only an emblem of compassion and honesty, but also a saint in politics and a committed soldier of social service.
Rajendra Prasad was born at a small village Ziradei under the then Bengal Presidency (after the bifurcation of Bengal it came under Saran District of Bihar). The young Rajendra was first initiated into learning Persian, as was the tradition, by a scholarly Maulvi and later he also learnt Hindi and Arithmetic.
Thereafter he studied at T.K. Ghosh Academy at Patna. After completing his High School Education he got admitted to Calcutta University from where he did his post graduation in Economics and Law, securing First Class at both the examinations. For some time he taught as a professor of English and then as a professor of Economics. He began practising as a young lawyer at Calcutta High Court and after the establishment of Patna High Court he shifted from Calcutta to Patna and in no time rose to eminence as a lawyer. Meanwhile, he also earned a Ph.D. in Law from the University of Allahabad (1937). Very soon he gave up his lucrative practice and the life of comfort and affluence, at the call of Mahatma Gandhi, and plunged headlong into the freedom movement and adjusted himself to this new life of struggle and austerity. Endowed with a magnetic intellectuality, Rajendra Prasad had a compassionate heart which could listen to the rhythms of poverty and empathise with the unfortunate sections of society. He was deeply moved to pity whenever he found people licking even the last drop of a ketchup bottle and scooping out even the last dab of toothpaste. He saw poverty at close quarters and it became his mission to emancipate all such people from sinking in the quagmire of poverty.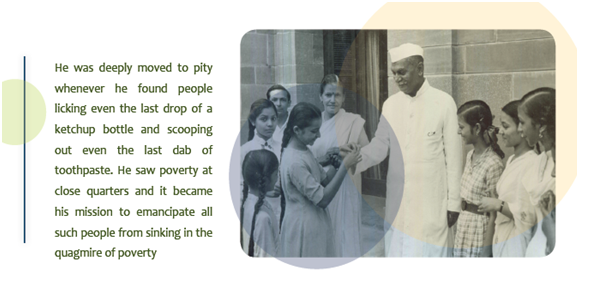 He was always in the habit of having intimate interactions with his own vulnerabilities which enabled him, as the President of the young Republic, to successfully steer the ship of our country to safer shores, overcoming all bumps and bruises, and ironing out serious differences with the government particularly relating to broader national and international interests. Unfortunately due to constitutional restraints he had to suppress his own ideas and visions in the larger interests of the democratic system. Today we are living in a seething cauldron of confusion and misinformation and as a result our country is facing a myriad of social, political and religious problems and all these are mostly the legacies of the previous governments.
Even living within the constraints of the Rashtrapati Bhavan, Rajendra Prasad, with his dynamism, fully armed with angelic humility and poly-intellectuality, amazingly managed to oxygenate the lungs of our country. He made all efforts to ensure continuance of a rejuvenating breeze of nationalism and selfless social service running through the corridors of power. His empathy and his generous heart do reflect his personality, his mindset which is "colourless of all colours" (Melville in Moby Dick). In fact every human being found a place in his altruistic heart.
Former Head of the Department
St. Anthony's College, Shillong.
To read the further article please get your copy of Eastern Panorama January issue @http://www.magzter.com/IN/Hill-Publications/Eastern-Panorama/News/ or mail to contact @easternpanorama.in