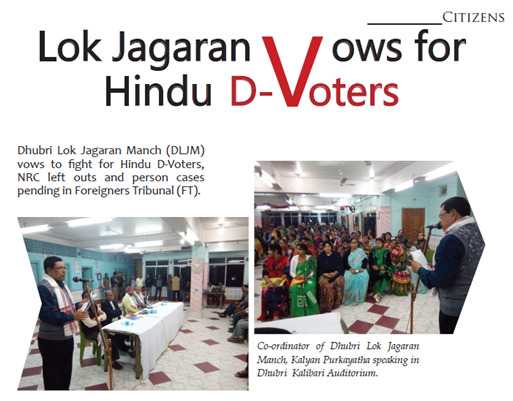 Dhubri Lok Jagaran Manch (DLJM) vows to fight for Hindu D-Voters, NRC left outs and person cases pending in Foreigners Tribunal (FT). This was announced in a meeting held at D.Kalibari Conference Hall by the Co-ordinator of DLJM, Kalyan Purkayatha recently.
While speaking to Associate Editor of Eastern Panorama, Bijoy Kumar Sharma on Hindu D-Voters, NRC left outs and cases pending in Foreigners Tribunal, Purkayastha, a veteran RSS activist alleged that there was a deep-rooted conspiracy to brand Hindus particularly Bengali, Bihari and Marwari of Rajasthan origin as foreigners and harass them.
Purkayatha informed that besides these Hindu communities, even an Assamese woman who is married to a Marwari now tagged "D" against her name in the electoral roll and she was running from pillar to post to get the D-Voter tag erased.
Purkayatha said, "In Dhubri Election District, there are 7516 D-voters of which most are Hindus in Dhubri, Gauripur, and Golokganj Assembly Constituencies. In a much-planned way, they are being cornered and squarely harassed by a section of staffs of election office under deep-rooted conspiracy at the behest of vested interest political perception, which will not allow happening at any cost".
However, Purkayastha assured the victims of conspiracy not get panicked of non-appearing of the name in NRC update, D-Voter tags, and FT cases as the organization was right on the back of victims and harassed people and work for ensuring their right to live in this country as a citizen with honour and dignity.
A senior advocate and also a veteran RSS activist, Sushil Kumar Das also assisting the manch in the legal matter said, that he was taking care of legal matters and procedures to get rid of D-Voter tag and FT cases pending.
RSS Bibhag Pracharak, Birendra Laskar coordinated working in tandem to save Hindus from brandishing them as Bangladeshi.
Bijoy Kumar Sharma
To read the further articles please get your copy of Eastern Panorama March issue @http://www.magzter.com/IN/Hill-Publications/Eastern-Panorama/News/ or mail to contact @easternpanorama.in