BidyaMandir aims at creating a school with a difference and it strives hard to achieve the dream of imparting quality education following CBSE curriculum to children with the co-operation of the benign but experienced and caring staffs.
School's core value is to attain the socio-economical upliftment and encouragement of unprivileged and downtrodden sector of the society in the field of education to make nation great.
Vision: The vision of Bidya Mandir is to empower students to persuade, to demonstrate, with eloquence and value knowledge and skills that will abutment them as life-long learners, to participate in and devote to the global world and practice the core values of the school: dignity, tolerance and inclusion, excellence and enjoyment.
Mission: In order provide children, the best platform for materializing their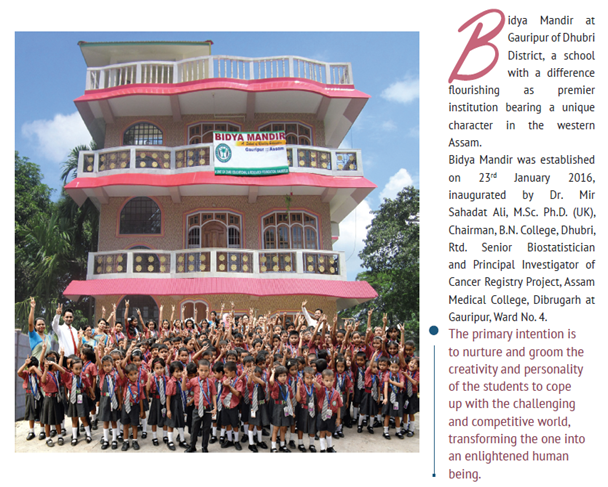 aims in life, Bidya Mandir is committed to provide them a friendly and pleasant atmosphere in school so that in enthuses the students to develop their moral character, ethical values and contributing attitude towards nation building. India is teemed with rich and abundant natural resources; as such the students are required to be developed as human resource. The students, if developed as such can utilize the natural resources so as to develop the socio-economic growth and thereby nation-building. The Bidya Mandir nurtures this mission and strives to achieve this in practical life. The ultimate Motto is to enter into the vast ocean of Knowledge and Explore the Globe
Talking to Eastern Panorama, Director of Bidya Mandir, Tahrin Begum spoke at a length on the budding institution, that Bidya Mandir is dedicated to create enthusiasm and encouragement in our up growing curious kids which will infuse capability in them in an emerging competitive world. A team of dedicated teachers will not only help the students in generating knowledge, acquiring skills, developing a positive attitude but also help them in becoming the best of the human being with meaningful living.
She said that the curriculum, course offering, Co-Curricular offerings are always aimed towards the overall growth of our students.
"We want our school to be blessed by almighty where the voice of the parents and community is heard. We at Bidya Mandir welcome the ideas, thoughts, and concerns of parents and well-wishers", Tahrin Begum claimed.
Begum is confident enough that Bidya Mandir team would make themselves stronger by each passing year, adding a new leaf to the grandeur of the school, and expressed gratitude to the parents of all the students for keeping their faith in them.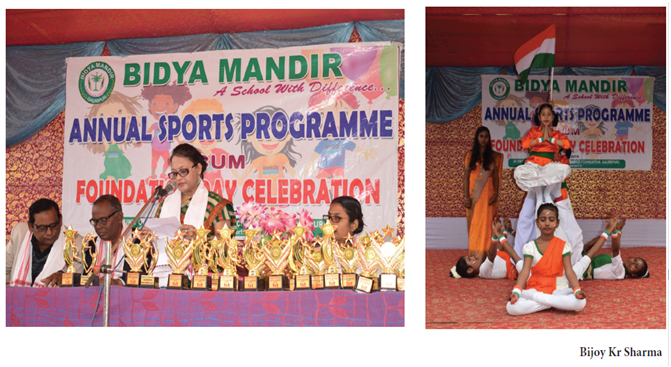 To read the further articles please get your copy of Eastern Panorama May issue @http://www.magzter.com/IN/Hill-Publications/Eastern-Panorama/News/ or mail to contact @easternpanorama.in