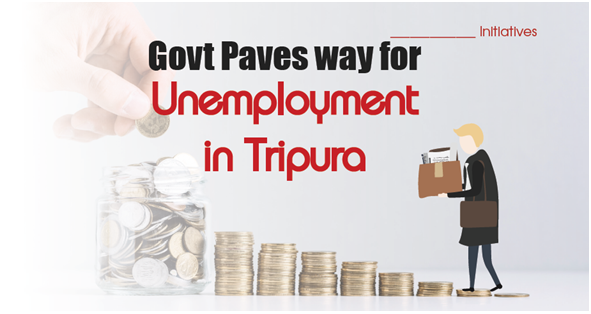 In the midst of formal employment crisis across India over last few years during Narendra Modi's role, Centre for Monitoring Indian Economy (CMIE) during the process of 17th Loksabha election comes out with a study report on unemployment in the country that brought a smile in BJP government in Tripura. The report showed a steady decline of unemployment in Tripura and in last one year it has reduced to 22.7 percent up to February this year corresponding to last year's figure 30 percent.
However, even then the rate of unemployment in Tripura is stood highest in the country. The report claimed that unemployment rate in Tripura has declined by 7.1 per cent in a year and indicated that the alternative job-initiatives undertaken by new government beyond appointment in government sectors has yielded fruit and resulted in sharp decline of unemployment. Elaborating CMIE report, officials of the state finance department stated that significant drop in unemployment rate in a short span shows success of government's multi-prone policies for generating employment avenues. In coming years, the unemployment rate will further come down.
Applauding the report of success in employment front against a number of odds, Chief Minister Biplab Kumar Deb reiterated that CMIE study has proved the direction of the functioning of state government on right track. Immediately after assuming power, BJP government focused on vital sectors like Infrastructure, IT, Agriculture, Tourism and small scale Industries, where a few critical policy shift made the difference, the officials said adding that soon after election process will be over there would be private investment in potential sectors that would generate at least 50,000 new job in one year. Moreover, the state government is all set to fill up about 5000 vacant posts in different government departments by next six months.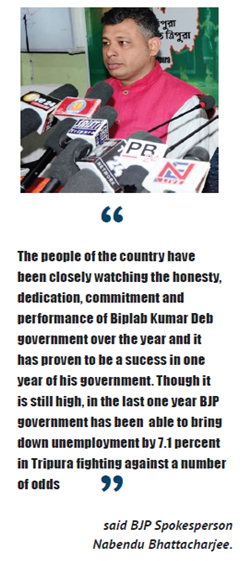 "Tripura has huge demand of fresh flowers and fruits, which have been coming from outside. The government will start the project from second quarter of the fiscal and benefit would be started coming after six months that could prevent outflow of about Rs 300 Cr every year," officials stated. They further underlined that Tripura required 25000 MT rice for PDS supply, which have been coming from other states but with the initiative of the state government annual payment of Rs 700 Cr can be made among the farmers and another Rs 200 Cr would be earned by the people engaged in transportation, milling and processing.
Apart from that pineapple export has been targeted in bigger way this year to middle east countries directly from the farmers, the officials said adding that the state has set the target to be self sufficient in fish, egg and milk production by two years besides, bringing more investment in IT and tourism sectors. To boost the horticulture production, the state government has declared queen variety pineapple as state fruit of Tripura and in last year about 5.15 MT pineapples was exported to Gulf countries by the growers which got good prices for their produces. The efforts for processing and marketing of horticultural produces have been proposed to be intensified further this year. The state government has also undertaken a massive program of plantation of fruits and flower plants along the roads. Such roadside plantation will initially be taken up along all the carpeted and black-topped roads under MGNREGS and other rural development schemes. The government has decided to assign the responsibility of maintaining these plants by the families residing along the roads. They will also be entitled to reap all the benefits acquiring from these plants. In addition, the state government has decided to pay monthly assistance of Rs 200 per family for maintenance of those plants.
Biswendu Bhattacharjee
To read the further articles please get your copy of Eastern Panorama May issue @http://www.magzter.com/IN/Hill-Publications/Eastern-Panorama/News/ or mail to contact @easternpanorama.in