The big one- the earth shaking, along the 600 kilometer stretch of Central Himalaya, is on its way, alerting seismologist and scientists who attended the International Conference at Indian Institute of Technology at Mandi.
The strain is already building up since the Indian tectonic rammed against the Asian plate, resulting in the gaining of height of the Himalayan Mountains. The biggest quake of 8.7 magnitudes in Assam in the year 1950 is recorded as being one of the biggest in the Himalayan region till date.
This has alerted the Himalayan region in the countries and states including the North Eastern region of India. Five great earthquakes have occurred in the region measuring around the 8.0 magnitude of the Shillong plateau in 1897, Kangra in 1905 in the Bihar and Nepal region in 1934 and India-China in 1950.
In Meghalaya the Disaster Management Department has been alerted, the minister in charge, Kyrmen Shylla said including the State Disaster Rescue Force and also the National Disaster Rescue Force. Equipments would also be procured for handling emergency situations. Most important however is that, the State Government should impose restriction on high rise building, especially in capital Shillong and other crowded and populated areas in the State. Erecting of mobile towers in crowded localities, should also be not allowed, as these towers pose as a potential danger of crushing people to death and also destroy houses and property.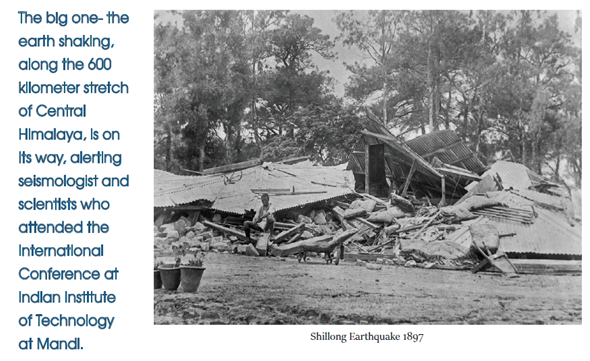 The North Eastern Region is most vulnerable to earthquake. Many of the epic-centre are in and around, Manipur, Arunachal Pradesh and neighbouring Myanmar. The entire region including Meghalaya falls within the danger-zone-five, which is very active region in the world. The two major quakes in the region was the Shillong Plateau in the year 1897, on June 12. Also the Assam quake on August 15th in the year 1950 was of the same magnitude or intensity of 8.7. Therefore, according to the statistical methods of earthquakes recorded in the region, between 1897-1992, indicates a period of 50 to 60 years for the return of the 8 magnitude disaster.
The June 12, 1897 Shillong earthquake, is believe to be the first earthquake in the country that can be described as historical, as after this earthquake, the first seismological observatory was established by the India Metrological Department in 1898, in Alipore in Calcutta. During 1898-99 two more observatories were opened one in Bombay at Colaba and another at Kodaikanal.
The Shillong seismological observatory at Upper Shillong is also a research centre of the Indian Institute of Geomagnetism for detailed studies on earthquakes, being the first of its kind in the North-Eastern Region.
As the clock is ticking away, every hour, minutes and seconds, the only recourse is to wait and feel the tremor that could be really earth-shaking, especially for Shillong, the North-Eastern Region and the Himalayan belt of Asia. The alarm has been sounded and all that is needed is to be prepared.
Sumar Sing Sawian
To read the further articles please get your copy of Eastern Panorama May issue @http://www.magzter.com/IN/Hill-Publications/Eastern-Panorama/News/ or mail to contact @easternpanorama.in