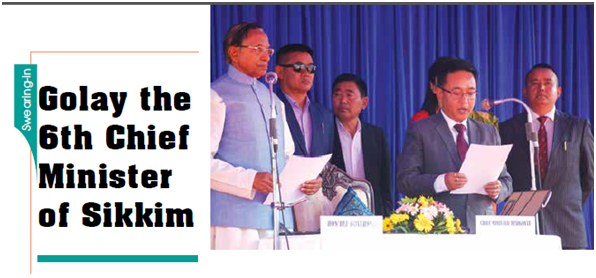 After 25 years, Sikkim Krantikari Morcha (SKM) President Prem Singh Tamang, popularly known as P S Golay, replaced Mr. Pawan Kr. Chamling, the longest-serving Chief Minister of an Indian state, from the throne of Sikkim. On 27th May, Monday, Golay took oath as the Chief Minister of Sikkim. Eleven SKM MLAs were also administered the oath by Governor Ganga Prasad at Paljor Stadium. Golay, who is not a member of the state assembly at present as he did not contest the polls, was elected as the SKM Legislature Party leader.
However, former Chief Minister Pawan Kumar Chamling and senior Sikkim Democratic Front (SDF) leaders boycotted the oath taking ceremony accusing that Golay was convicted by court in a corruption case and he was not eligible to be Chief Minister. But senior SKM leaders cited another Article 164 of the Indian Constitution which allows anyone to become a minister or a Chief Minister provided he got himself elected to the Assembly within six months of taking the oath.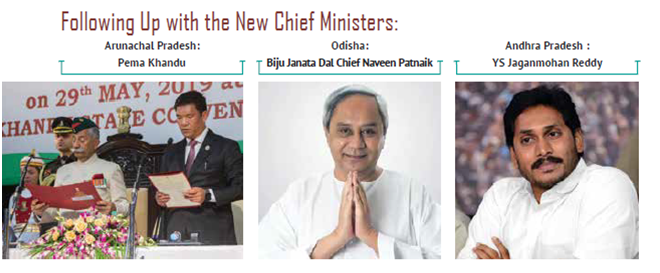 The SKM, founded in 2013, won a slender majority in the 32-member Sikkim Legislative Assembly by bagging 17 seats against 15 won by the SDF. The Chamling government was ousted by the SKM after over 25 years.
The 11 SKM leaders who took the oath as ministers are Kunga Nima Lepcha, Sonam Lama, Bedu Singh Panth, Dr Mani Kumar Sharma, Arun Kumar Upreti, Sandup Lepcha, Lok Nath Sharma, Mingma Norbu Sherpa, Karma Loday Bhutia, Bhim Hang Limboo and Sanjit Kharel.
Prior to forming the party, Golay was a key member of the Sikkim Democratic Front (SDF)Party. Golay was born to Kalu Singh Tamang. He hails from Singling Busty, West Sikkim. He graduated with a degree in Bachelors of Arts from Darjeeling Government College in 1988. In 1990, he was appointed as graduate teacher under the education department in the Government of Sikkim and served until 1993.
Due to his active interest in social work and politics, he resigned from government service and started participating in the political activities of SDF. As the SDF candidate in the Chukhung Constituency, West Sikkim, he was elected to the Sikkim Legislative Assembly in 1994. During his affiliations with the SDF party, he served as State Youth Convenor and Vice President.
He served in ministerial roles in the Sikkim government for three consecutive terms: from 1994 to 1999 as the Minister for Animal Husbandry, Ecclesiastical and Industry Department; 1999 to 2004 as the Minister for Industries and Animal Husbandry; and 2004 to 2009 as the Minister for Building and Housing Department. In 2009, after winning an election in the Burtuk Constituency, he was nominated as the Chairperson of Industries Department. However, he did not serve as chairperson. After establishment of his party, Sikkim Krantikari Morcha, during 2014 he was elected as MLA from Burtuk Constituency.
DB Rai
To read the further articles please get your copy of Eastern Panorama June issue @http://www.magzter.com/IN/Hill-Publications/Eastern-Panorama/News/ or mail to contact @easternpanorama.in