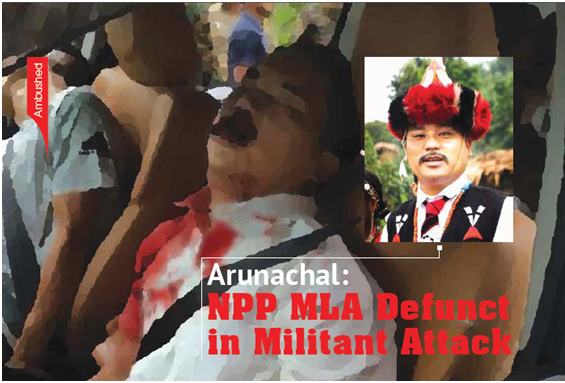 Suspected militants of the National Socialist Council of Nagaland-Isak-Muivah (NSCN-IM) on 20th May 2019 ambushed a convoy where National People's Party (NPP) candidate Tirong Aboh along with his supporters was travelling from Assam's Dibrugarh to his constituency, Khonsa West in Arunachal Pradesh. Tirong Aboh was the sitting MLA from the Khonsa West Assembly seat and was seeking re-election in the ongoing state assembly polls in Arunachal Pradesh. Tirong Aboh had contested and won from Khonsa West in 2014 on a People's Party of Arunachal (PPA) ticket but he and six other PPA legislators switched sides to the NPP on July 2018.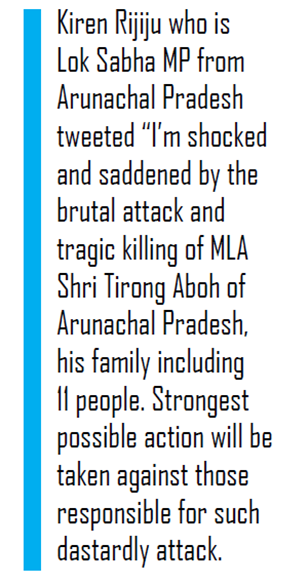 Arunachal Pradesh Director General of Police S.B.K Singh Tirong Aboh said, that Tirong Aboh convoy was stopped by armed men and were fired upon around the 12 Mile area around 11.30. Eleven were killed on the spot, two have been admitted to a hospital with serious injuries and two others escaped unhurt. His 20-year-old son, Loggem Aboh and party General Secretary Wangngoi Hakhun was also killed in the attack. Mr Aboh was vocal against the NSCN factions after an NPP supporter was killed ahead of the April 11 election. His outspoken opposition to the outfits is believed to have cost him his life.
Prior to this attack faction had previously targeted Tirong Aboh in 2009 and 2014. In March, a group of NSCN militants attacked two NPP supporters in Tirap district, killing one of them.
NSCN extremists on December 2007 had shot dead Wangsha Rajkumar, who was former Congress MP from Arunachal East constituency at Deomali in Tirap district.
Before the 2009 Assembly election, the Isak-Muivah faction of the NSCN allegedly threatened to make Congress candidate Newlai Tingkhatra's life miserable if he did not pay Rs 3 crore. The outfit also allegedly abducted 16 Congress workers to drive home its point.
Kiren Rijiju who is Lok Sabha MP from Arunachal Pradesh tweeted "I'm shocked and saddened by the brutal attack and tragic killing of MLA Shri Tirong Aboh of Arunachal Pradesh, his family including 11 people. Strongest possible action will be taken against those responsible for such dastardly attack."
EP Desk
To read the further articles please get your copy of Eastern Panorama June issue @http://www.magzter.com/IN/Hill-Publications/Eastern-Panorama/News/ or mail to contact @easternpanorama.in