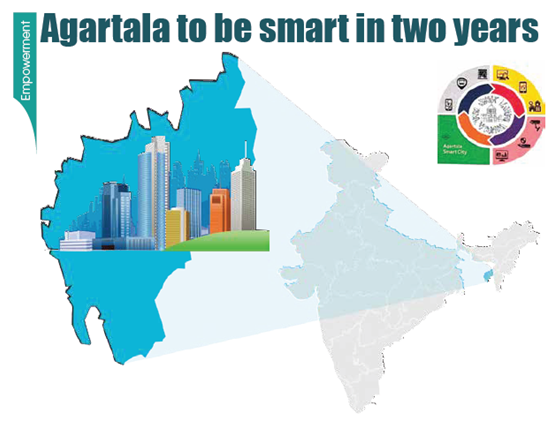 Under ambitious Smart Cities Mission, Agartala the second largest city of Northeast is all set to get a facelift with multiple initiatives in next two years where PAN-city project envisages of Rs113.49 Cr. Applying Smart Solutions to the existing city-wide infrastructure besides, use of technology, information, and data to make infrastructure and services better. In Agartala, PAN city projects majorly focus on Integrated Intelligent Transport Management System, Smart Network, and Rapid Transit System (RTS) have been aimed to benefit and improve the quality of life of the citizens.
Smart Toilet installation near Children's Park, cycle track from Math Chowmuhani to historical MBB College campus, enhancement of road-lanes from two and more in 13 routes in the heart of Agartala city and another one route from Agartala to Airport, smart accommodations of slum dwellers, modernization of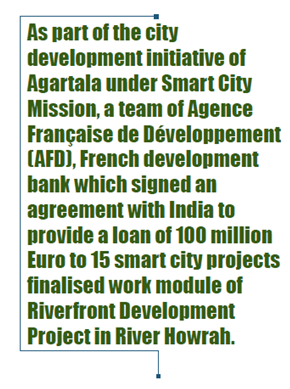 tourist spots in the city. There are initiatives of modernizing the islands of 12 chawks in Agartala city with different themes of football, books, a tribal culture where 45 thematic bus stops to be installed soon with a real-time display in the boards, said Special Secretary Urban Development of Tripura Kiran Gitte.
He stated, there will also be an electronic board for public information system at 55 places while the light-house project has also been taken up where German technology will be used for accommodating 1000 slum dwellers. Each and every household will cost Rs 15 lakh where there will be a share of state and centre along with 10 percent beneficiary contribution.
As part of the city development initiative of Agartala under Smart City Mission, a team of Agence Française de Développement (AFD), French development bank which signed an agreement with India to provide a loan of 100 million Euro to 15 smart city projects finalised work module of Riverfront Development Project in River Howrah. The five-member team comprising officials from Ministry of Housing and Urban Affairs and AFD has inspected two separate stretches of River Howrah, the upstream stretch in the city and held several rounds of meeting with the officials and engineers of Urban Development Department and Agartala Municipal Corporation (AMC) on the preparatory sketch of the project made by Agartala Smart City Mission.
The projects taken in the line of River Sabarmati and River Gomati, the new government has included the plan of Riverfront development under Agartala Smart City Mission. Under this project, beautification of river side's with an organic plantation, sitting arrangements, and parking blocs. This beautification will cover the stretch of the River flowing through the City. The project cost will be approximately pegged at Rs 99 Crore. The central government will pay Rs 51 crore and the rest of the money will be spent by the state government. The finance department has already passed the project and if everything falls in the right place, the DPR and other prior paper works will be completed within this financial year.
Biswendu Bhattacharjee
To read the further articles please get your copy of Eastern Panorama June issue @http://www.magzter.com/IN/Hill-Publications/Eastern-Panorama/News/ or mail to contact @easternpanorama.in